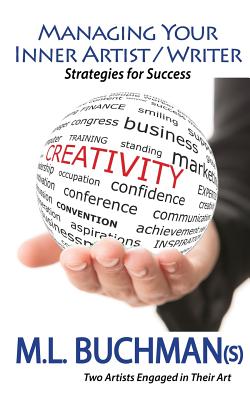 Managing Your Inner Artist / Writer (Paperback)
Strategies for Success
Createspace Independent Publishing Platform, 9781495249457, 198pp.
Publication Date: January 17, 2014
Other Editions of This Title:
Paperback (1/17/2014)
* Individual store prices may vary.
Description
Writer, Painter, Photographer, Musician, Designer, Animator, Graphic Artist, Programmer, Screenwriter, Dancer, Environmental Artist, Textile Artist, Composer, Weaver, Sculptor...For decades, this brother and sister team have studied what works and what doesn.
About the Author
THE BROTHER: M.L. "Matt" Buchman is an internationally published author of romance, thrillers, and fantasy novels. NPR selected one of his novels as "Top 5 Romance of 2012." Another was picked by Booklist as "Top 10 Romance of 2012." A third was named "Barnes & Noble Best 5 Romance of 2013." He has taught creative fiction writing at the University of Washington as well as lectured at dozens of seminars and conferences over the last twenty years. He has also worked as a project manager for over thirty years and been a trainer on behalf of Project Management International teaching both new and long-term professionals. He has led a wide variety of projects in industries as diverse as publishing, law, construction, and I.T. He studied operatic vocal production for several years and has played a wide variety of instruments badly. He had the good sense to fall in love with a research librarian and is the first to proclaim that he has the best kid on the planet (so don't get him started). He is constantly astonished at what can be done with a degree in Geophysics. (http: //www.mlbuchman.com) THE SISTER: M.L. "Melitte" Buchman, MFA, a noted practitioner and teacher of tintype photography, has worked for decades leading digital archiving projects for such notable institutions as New York Public Library (NYPL) and New York University (NYU). In frequent demand as a conference speaker, it is the photographic process that motivates her to enter the darkroom and explore what is possible. Her choice of true love was an abstract painter who worked for decades behind the scenes in various NYC galleries and institutions. Between them, they continue to nurture many artists, especially themselves. (http: //www.melittebuchman.com)
or
Not Currently Available for Direct Purchase