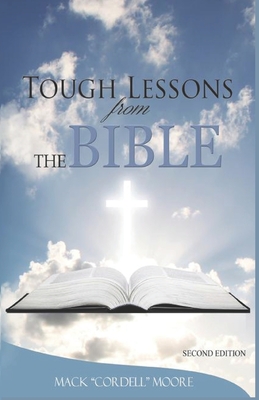 Tough Lessons from the Bible (Paperback)
Createspace Independent Publishing Platform, 9781495318054, 300pp.
Publication Date: January 23, 2014
* Individual store prices may vary.
Description
An Unorthodox Approach to bible Study Is God Real? Is Jesus the Son of God? Is Hell for real? Where do people go when they die? Is abortion a sin? What heathen practice is abortion derived from? What does the bible teach about homosexuality? Why is it that Santa and Satan have the same exact 5 letters? Did you know Christmas trees are banned in the bible? What passage? You can find the answers to those questions and more in Tough Lessons from the Bible. Tough Lessons from the Bible is a shock to your system, but remains true to the Word of God. There are things Christians are doing which contradict the bible. The author wants to help readers know your bible better. This book has the bible study tools to help anyone grow in Christ.There is not another book like it on the market. This book is unique because it covers multiple topics at one. In this book the reader will learn new things such as the real meaning of the rainbow, why saying "hail Mary" is idolatrous, what speaking in tongues really is, the truth about prosperity preaching, and how to identify a false prophet among many other things. Are you ready to have your minds blown? Can you handle the truth? Do you want to improve your bible study? Then check out Tough Lessons from the Bible.
About the Author
Mack "Cordell" Moore believes in Jesus Christ as his Lord and Savior. He is an author with a unique story! This author is a virgin saving himself for marriage. Christ has given him the strength to remain a virgin. Only Jesus and His Word helped the author battle through years of depression. Now the author writes to offer words of encouragement to others who are seeking depression help and a depression cure by showing them how much Jesus loves them, whether they are saved or unsaved. He also writes to inform and teach believers about the Word of God and the importance of growing closer to Christ. Born and raised in North Carolina, his passion for Christ is evident in whatever he writes. He has written two books: "Cordell's Poems of Spiritual Inspiration and "Tough Lessons from the Bible." "Tough Lessons from the Bible" is the second book written by Mack. His first book, "Cordell's Poems of Spiritual Inspiration," is a very powerful book of inspirational poems. This book helps to motivates others and helps with suicide prevention. "Tough Lessons from the Bible" is a thought-provoking book on bible study lessons that's compelling and is filled with controversial knowledge. It covers very hot button topics such as gay marriage, abortion, pagan history of Christmas, to name a few. Both books are availabe on Amazon & Kindle. This author has a unique style of writing. He writes with a sense of urgency as if it's his only chance at getting his message across. Mack is a believer of Jesus and does have knowledge of scripture like a minister. He is led by the Holy Spirit to do the Lord's will.