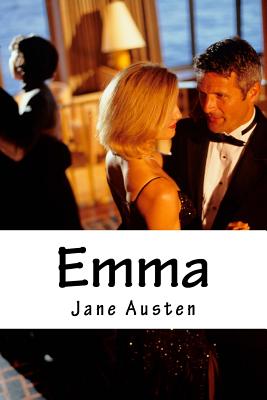 Emma
Paperback

* Individual store prices may vary.
Other Editions of This Title:
Paperback (5/17/2012)
Paperback (8/1/2018)
Paperback (6/6/2013)
Paperback (7/23/2018)
Paperback (10/29/2011)
Paperback (7/17/2018)
Paperback (7/30/2013)
Paperback (12/9/2008)
Paperback (3/17/2011)
Paperback (7/18/2018)
Hardcover (12/9/2008)
Paperback (6/9/2019)
Hardcover (11/14/2008)
Paperback (10/15/2008)
Hardcover (2/20/2006)
Hardcover (10/15/2008)
Hardcover (10/20/2005)
Paperback (2/18/2015)
Paperback, Large Print (8/12/2018)
Hardcover (6/1/2010)
Description
Although convinced that she herself will never marry, Emma Woodhouse, a precocious twenty-year-old resident of the village of Highbury, imagines herself to be naturally gifted in conjuring love matches. After self-declared success at matchmaking between her governess and Mr. Weston, a village widower, Emma takes it upon herself to find an eligible match for her new friend, Harriet Smith. Though Harriet's parentage is unknown, Emma is convinced that Harriet deserves to be a gentleman's wife and sets her friend's sights on Mr. Elton, the village vicar. Meanwhile, Emma persuades Harriet to reject the proposal of Robert Martin, a well-to-do farmer for whom Harriet clearly has feelings.Harriet becomes infatuated with Mr. Elton under Emma's encouragement, but Emma's plans go awry when Elton makes it clear that his affection is for Emma, not Harriet. Emma realizes that her obsession with making a match for Harriet has blinded her to the true nature of the situation. Mr. Knightley, Emma's brother-in-law and treasured friend, watches Emma's matchmaking efforts with a critical eye. He believes that Mr. Martin is a worthy young man whom Harriet would be lucky to marry. He and Emma quarrel over Emma's meddling, and, as usual, Mr. Knightley proves to be the wiser of the pair. Elton, spurned by Emma and offended by her insinuation that Harriet is his equal, leaves for the town of Bath and marries a girl there almost immediately.
Createspace Independent Publishing Platform, 9781495387067, 276pp.
Publication Date: January 1, 1815