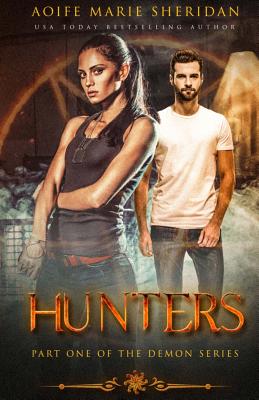 Hunters (Paperback)
Hunters #1
Createspace Independent Publishing Platform, 9781495430725, 200pp.
Publication Date: September 14, 2014
* Individual store prices may vary.
or
Not Currently Available for Direct Purchase
Description
Abigail is nineteen, her job she hunts demons. Her life so far has been tough, having witnessed her family's death and her mother's suicide she's taken in by a priest, who believes her when she says she sees ghosts. Father Peter trains her as a demon hunter with three other members, one being Daniel, who isn't what he seems. But when a possession goes wrong, and ghosts start to attack Abigail, the tight rope she had on her emotions soon starts to loosen. Abigail draws the unwanted attention of the Reote, and she finds out a lot more then she was willing to learn. Knowledge is power, but for Abigail it's her undoing, and the only thing keeping her together is Daniel.
About the Author
Aoife Marie Sheridan has loved reading from a very young age, starting off with mills and boon's books, given to by her grandmother her love for romances grew, by the age of 14 she had read hundreds of them. Aoife had a passion for writing poetry or in her eyes her journal entries. It was something she did throughout her teens and into her twenties. Aoife won first place for two of her poems and had them published at a young age of just nineteen. Realising she needed to get a real job (What writing isn't) she studied accountancy and qualified working in that field for many years, until her passion for reading returned and she found Maria V Snyder. Poison study one of her favourite books has been read and re-read countless times. Aoife's first book Eden Forest (Part one of the Saskia Trilogy) came to be after a dream of a man and woman on a black horse jumping through a wall of fire and the idea of Saskia was born. Now with her first novel published and taking first place for Eden Forest with Writers Got Talent 2013, Aoife continues to write tales of fantasy and is currently working on her third book for the Saskia Trilogy amongst other new works. To find out more about Aoife Marie Sheridan you can visit her at: Amazon Page: http: //www.amazon.com/-/e/B00B5W8SK6 Facebook: https: //www.facebook.com/Aoifemariesheri Website: www.aoifemariesheridan.com or email her at aoifesheridan101@gmail.com Blog: aoifesheri.wordpress.com Goodreads: https: //www.goodreads.com/author/show... Twitter: https: //twitter.com/aoifesheri Google Plus: https: //plus.google.com/+AoifeMarieSh... Linkedin: http: //ie.linkedin.com/pub/aoife-mari... Pinterest: http: //www.pinterest.com/aoifesheri/ Mailing List: http: //aoifemariesheridan.us7.list-ma... TSU: http: //www.tsu.co/aoifesheri
Advertisement