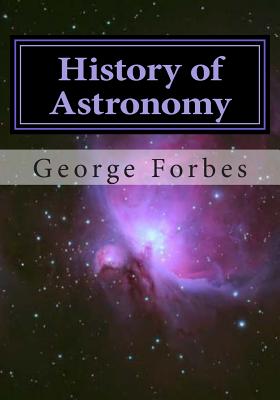 History of Astronomy (Paperback)
Createspace Independent Publishing Platform, 9781495446788, 84pp.
Publication Date: February 6, 2014
Other Editions of This Title:
Paperback (10/27/2018)
Paperback (6/17/2016)
Paperback (12/1/2008)
Paperback (7/12/2018)
Paperback (9/11/2017)
Paperback (2/22/2015)
Paperback (6/3/2015)
Paperback (8/12/2018)
Hardcover (12/9/2008)
Hardcover (10/13/2018)
Paperback (10/13/2018)
Hardcover (11/8/2018)
Paperback (11/8/2018)
Paperback (2/9/2015)
Hardcover (8/9/2015)
Hardcover (9/2/2015)
Paperback (4/19/2009)
Paperback (4/19/2009)
Hardcover (4/30/2009)
* Individual store prices may vary.
Description
History of Astronomy, but George Forbes, was first published in 1909. The historical portions of the book are helpful in understanding the viewpoint of the astronomers who's efforts laid the foundation for astronomy. The author dealt with historical figures fairly, never taking the point of view that if it isn't modern what they found was just dumb luck. The projections the book makes about future developments in astronomy show us how far our current projections can err. In his book, Forbes helps put our limited knowledge of the great beyond back into perspective. The history of the entire concept of the "Milky Way" galaxy and the widespread use of the term "galaxy" before astronomer's perceived that there was more than one galaxy was most revealing. This book can teach us to be more careful about speculations regarding the unknown. What the author saw as most probable turned out to be not so.
About the Author
George Forbes (1849-1936) was an electrical engineer, astronomer, explorer, author and inventor, some of whose inventions are still in use.