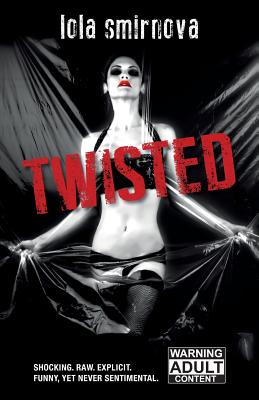 Twisted (Paperback)
Createspace Independent Publishing Platform, 9781496031013, 314pp.
Publication Date: January 21, 2014
* Individual store prices may vary.
Description
HONORABLE MENTION of The 2014 London Book Festival Competition 3rd Place of The Drunken Druids International Book Award 2014 Riveting and dark New Adult realistic fiction with a touch of Thrilling Suspense. "A gripping and mature story deftly woven by Lola Smirnova, "Twisted" is the kind of suspense novel that will linger in the mind and imagination long after it is finished and set back upon the shelf. "Twisted" introduces an extraordinarily gifted author to an appreciative readership looking eagerly toward her next literary effort." - Midwest Book Review Back in the 90's, the corrupt post-Soviet Ukraine with its faltering economy is thrown into a devastating depression. Times are hard. Opportunities are scarce. Three young and eager sisters - Natalia, Lena and Julia - dream of a better life, and weigh their options: do they stay and struggle like their parents, or join scores of their compatriots in the sex trade in glittering western European cities, who earn in a night what they'd take several months to earn at home? Naive and tempted by the allure of 'quick' money, the girls set off on an adventure that changes their lives forever... Can they stay out of trouble enough to fulfill their ambitions? Can they hold on to their idealism in a world where depravity and danger are constant companions? How far are they willing to go to make a buck? 'TWISTED' IS THE FIRST BOOK OF A PLANNED TRILOGY. THE SECOND ONE - 'CRAVED' was released in July 2015. To stay updated on the upcoming book #3, follow Lola on Facebook - https: //www.facebook.com/twistedlolasmirnova or Twitter - @AuthorSmirnova. "Charged with some disturbing sexual scenes (including rape), the book manages a steady, readable flow as it shines a light on the multifaceted world of the European sex trade."
 - Kirkus Reviews "Smirnova takes us on a philosophical and pseudo-psychological pilgrimage through the sexual underworld as Julia, in first person narrative, describes her struggling introduction into a profession where she can ply the only skills currently marketable." - 5 star review from Readers' Favorite "I highly recommend 'Twisted' to open-minded readers who aren't afraid of a little blood, sweat and semen. It's sure to shock and surprise you, with both its storyline and its literary value." - 5 star review from Red City Review "In the meantime, Smirnova hopes that Twisted will raise awareness to the problems of the sex industry... Kudos to Smirnova for an outstanding job achieving that goal " - 5 star review from Pacific Book Review "It is up front and direct; Smirnova thankfully avoids the guileless euphemism that writers with less comfort about sex and sex work use in their sex scenes. It also explores the business with a sensitivity and respect - though not approval - that is rare."
 - Foreword Clarion Reviews "While the subject matter does not make for a light read, a breezy writing style and Julia's willingness to fully and shamelessly lift the veil on her controversial lifestyle makes an irresistible combination."
 - IndieReader "TWISTED makes FIFTY SHADES OF GREY look like two little kids having a tea party while pretending to be married. " - The Armchair Librarian.
About the Author
Originally from Ukraine, Lola Smirnova is an author, who loves twisting a suspenseful tale through the dark lens of realism around the sexual underworld, so clocked in secrecy and shame. Lola's work is inspired by real-life events and is meant for the open-minded readers who are not afraid of a little blood, sweat and semen. Her debut novel Twisted was released in 2014. The book placed as Honorable Mention in General Fiction Category of The 2014 London Book Festival's Annual Competition and took the 3rd Place at The Drunken Druids International Book Award 2014. Lola released her second book - sequel to Twisted - Craved in July 2015. It placed as Honorable Mention in General Fiction Category of The 2015 London Book Festival's Annual Competition. Now living in South Africa, Lola is working on her third book in the trilogy, which proves just how many fascinating stories she has to share about the ordinary women in the global sex industry. You can contact Lola via twisted@lolasmirnova.com