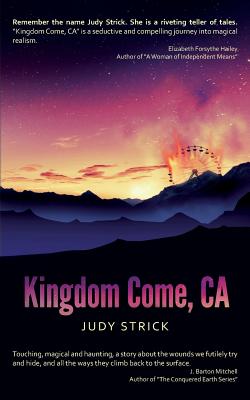 Kingdom Come, CA (Paperback)
Createspace Independent Publishing Platform, 9781496036049, 352pp.
Publication Date: May 21, 2014
* Individual store prices may vary.
Description
When unexplainable things happen, is it coincidence or supernatural? What is real and what is imagined? In this mystery novel tinged with magic realism, Kingdom Come, CA, author Judy Strick paints a compelling world in a deeply satisfying work of literary fiction that leaves readers questioning everything from their own responses and interactions to the very way they define reality. Kirkus Reviews writes, "In her debut, Strick successfully writes with the confidence of a seasoned author... A clear new voice offering a startling, memorable debut."
In this compelling story, reclusive artist Ruby Wellman retreats to rural Kingdom Come, California, a small town, 21st century Brigadoon. Ruby, who still suffers from the effects of a childhood tragedy, quietly focuses on her surrealist paintings and keeps locals at arm's length. When six-year-old Finn McCord moves in next door with his contentious parents, Ruby is pulled into the boy's disturbed and dysfunctional world. Finn talks only to animals and imaginary friends. Ruby, who communicates through her paintings which nobody sees, immediately identifies with the boy and sees parallels to her buried past. As the boy's visions become more vivid and he further withdraws from the world, Ruby's paintings and Finn's dreams collide in an unexpected explosion that both heals and reveals old secrets and wounds.
Ruby and Finn are joined by a cast of colorful supporting characters: from Ruby's divorced and broken parents to the worldly and sophisticated Hannah and Mischa McCord. They are a curious addition to an eclectic collection of Kingdom Comers that includes an herbalist guru, a ruggedly handsome jack-of-all-trades part-time sheriff; a dead '40s cowboy movie star, a dog named Tonto, and the Wizard, Finn's new best friend. Strick populates her novel with rich, engaging personalities, developing them fully to beautifully capture the complexities of the human condition. The world that she creates may delve into the mystical, but it is securely affixed to a reality that is made all the more familiar by the three-dimensional characters who inhabit it.
About the Author
Judy Strick is a native of Southern California. She has an MFA from Otis Art Institute. In a former lifetime, she was a fine artist, then toy designer. She studied screenwriting at AFI and fiction writing at UCLA, and has spent the last ten years honing her novelistic skills. Kingdom Come, CA is her debut novel. She lives in Los Angeles with her 2.5 dogs.