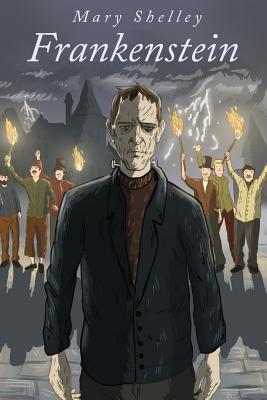 Frankenstein
(starbooks Classics Editions)
Paperback

* Individual store prices may vary.
Other Editions of This Title:
Paperback (4/17/2017)
Paperback (5/21/2019)
Paperback (11/19/2016)
Paperback (1/5/2021)
Paperback (12/22/2020)
Paperback (6/24/2020)
Paperback (5/13/2017)
Paperback (9/24/2015)
Paperback (12/30/2020)
Paperback (2/21/2021)
Paperback (1/15/2014)
Paperback (4/23/2016)
Paperback (1/27/2021)
Paperback (10/16/2017)
Paperback (3/7/2021)
Paperback (10/23/2015)
Hardcover (1/20/2016)
Description
Frankenstein; or, The Modern Prometheus is a novel written by British author Mary Shelley about eccentric scientist Victor Frankenstein, who creates a grotesque creature in an unorthodox scientific experiment. Shelley started writing the story when she was eighteen, and the novel was published when she was twenty. The first edition was published anonymously in London in 1818. Shelley's name appears on the second edition, published in France in 1823. Shelley had travelled in the region of Geneva, where much of the story takes place, and the topics of galvanism and other similar occult ideas were themes of conversation among her companions, particularly her future husband, Percy Shelley. The storyline emerged from a dream. Mary, Percy, Lord Byron, and John Polidori decided to have a competition to see who could write the best horror story. After thinking for days about what her possible storyline could be, Shelley dreamt about a scientist who created life and was horrified by what he had made. She then wrote Frankenstein. Frankenstein is infused with some elements of the Gothic novel and the Romantic movement and is also considered to be one of the earliest examples of science fiction. Brian Aldiss has argued that it should be considered the first true science fiction story, because unlike in previous stories with fantastical elements resembling those of later science fiction, the central character "makes a deliberate decision" and "turns to modern experiments in the laboratory" to achieve fantastic results. It has had a considerable influence across literature and popular culture and spawned a complete genre of horror stories, films, and plays. Since publication of the novel, the name "Frankenstein" is often used to refer to the monster itself, as is done in the stage adaptation by Peggy Webling. This usage is sometimes considered erroneous, but usage commentators regard the monster sense of "Frankenstein" as well-established and an acceptable usage. In the novel, the monster is identified via words such as "creature," "monster," "fiend," "wretch," "vile insect," "daemon," "being," and "it." Speaking to Victor Frankenstein, the monster refers to himself as "the Adam of your labors," and elsewhere as someone who "would have" been "your Adam," but is instead "your fallen angel.
Createspace Independent Publishing Platform, 9781496135544, 200pp.
Publication Date: March 4, 2014
About the Author
Mary Wollstonecraft Shelley, the daughter of William Godwin and Mary Wollstonecraft, was born in London, August 30, 1797, and married to the poet Shelley in 1816, on the death of his first wife Harriet. Two years previous to this she had eloped with Shelley to Switzerland, and they lived together in Italy till his death in 1823, when Mrs. Shelley returned to England, and continued her literary work. "Frankenstein, or the Modern Prometheus," the first of Mary Shelley's books, was published in 1818, and owed its origin to the summer spent by the Shelleys on the shores of Geneva when Byron was their neighbour. It was "a wet, ungenial summer," according to the account Mary Shelley has left. "Some volumes of ghost stories, translated from the German into French, fell into our hands." Then one evening Byron said, "we will each write a ghost story," and the proposition was agreed to, and Mary Shelley's contribution was developed till at length "Frankenstein" was written. The story is at once a remarkable and impressive performance. The influence of Mrs. Shelley's father is apparent throughout, but probably the authoress was most influenced by the old German tales of the supernatural. The theme of a mortal creating, by the aid of natural science, a being in the shape of man, was at the time a bold and daring innovation in English literature. Mrs. Shelley died February 21, 1851.