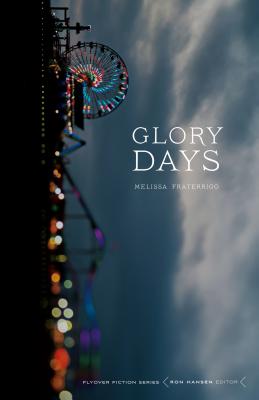 Glory Days (Flyover Fiction) (Paperback)
University of Nebraska Press, 9781496201324, 180pp.
Publication Date: September 1, 2017
* Individual store prices may vary.
Description
2017 Finalist for Literary Fiction, Foreword Reviews

Best Fiction Books of 2017 by Chicago Review of Books

One of 19 Books You Should Read This September by Chicago Review of Books

The small plains town of Ingleside, Nebraska, is populated by down-on-their-luck ranchers and new money, ghosts and seers, drugs and greed, the haves and the have-nots. Lives ripple through each other to surprising effect, though the connections fluctuate between divisive gulfs and the most intimate closeness. At the center of this novel is the story of Teensy and his daughter, Luann, who face the loss of their land even as they mourn the death of Luann's mother. On the other end of the spectrum, some townspeople find enormous wealth when developers begin buying up acreages. When Glory Days—an amusement park—is erected, past and present collide, the attachment to the land is fully severed, and the invading culture ushers in even darker times.

In Glory Days Melissa Fraterrigo combines gritty realism with magical elements to paint an arrestingly stark portrait of the painful transitions of twenty-first-century, small-town America. She interweaves a slate of gripping characters to reveal deeper truths about our times and how the new landscape of one culture can be the ruin of another.
About the Author
Melissa Fraterrigo
is the founder and executive director of the Lafayette Writers' Studio in Lafayette, Indiana. She is the author of a collection of short fiction,
The Longest Pregnancy
. For more information about the author, visit
melissafraterrigo.com
.
Praise For Glory Days (Flyover Fiction)…
"A quiet Midwestern ghost story with prose as clear and cold as the Nebraska plains in winter." —Chicago Review of Books
— Chicago Review of Books
"A brutally beautiful tale."—Patrick T. Reardon, Chicago Tribune
— Patrick T. Reardon
"Astonishing writing about a world that deserves greater attention in contemporary literature."—Library Journal, starred review
— Library Journal
"A stunning tour de force centered in a small cattle ranching town."—Paige Van de Winkle, Foreword Reviews, starred
— Paige Van de Winkle
"If Willa Cather and Cormac McCarthy had a love child, she would be a writer such as Fraterrigo."—Carol Haggas, Booklist
— Carol Haggas
"Language and imagery of great originality are the most striking aspects of Melissa Fraterrigo's Glory Days."—Céline Keating, Necessary Fiction
— Céline Keating
"Glory Days blends the surreal with the supernatural while remaining firmly grounded in the hearty Midwestern earth of its setting."—E. CE Miller, Bustle
— E. CE Miller
"Fraterrigo draws beautiful imagery through deep metaphors. . . . Characters are chained by their past losses, chained by the grief that stiffens them. It's not until new life comes into lnglesside that these chains begin to break."—Hadeel Salameh, Mid-American Review
— Hadeel Salameh
"Melissa Fraterrigo's novel-in-stories Glory Days is at once ethereal and material. It dabbles in the natural and the supernatural, the spiritual and the corporeal. Set in the fictional town of Ingleside, Nebraska, Glory Days pulls us into a struggling Midwestern community and into the psyches of its tragic residents. Haunted by their own pasts and the ghosts of their loved ones, the characters in Glory Days are up against the forces of a world determined to overlook them."—Sarah L. Bailey, StorySouth
— Sarah L. Bailey
"Melissa Fraterrigo sets her novel Glory Days against the backdrop of a key economic struggle in the United States—the death of the family farm and its devastating impact on rural and small-town life."—RT Both, Colorado Review
— RT Both
"Melissa Fraterrigo's novel strikes with the unexpected force of a summer tornado. . . . Characters worthy of a Flannery O'Connor story struggle and self-medicate to make sense of lives marked by loss, violence, and despair. These characters yearn for one another, across time, even across death, and they take comfort in the past and in one another, however fragile their connections."—Bonnie Jo Campbell, National Book Award finalist and author of Mothers, Tell Your Daughters
— Bonnie Jo Campbell
"Spinning through a series of unforgettable characters, each lured by a sense of freedom, violence, or the need to belong, these stories surprise us, echo with significance, and draw together to paint a complicated portrait of a place about to be lost."—Michelle Hoover, author of The Quickening and Bottomland
— Michelle Hoover
"Melissa Fraterrigo's people will brand an impression upon your soul. . . . She knows her land and its people, their struggles, conflicts, ways of survival and ruin, but most of all the roots to family, and wanting to escape that family. Her people are forever stained by their upbringing, memories, and consequences of choice. Melissa's stories are a powerful reminder of what it means to be human."—Frank Bill, author of Crimes in Southern Indiana
— Frank Bill
"Glory Days is a tender and tragic portrayal of small-town life, filled with beautifully flawed characters whose voices are unforgettable. From this fascinating cast, we hear about the economic trials of farming, the realities of poverty, the solace of land. From calving season to an amusement park, this novel takes us on a journey that's told with generosity of spirit and a true tenderness for the land and people. A beautiful book."—Laura Pritchett, author of Stars Go Blue
— Laura Pritchett