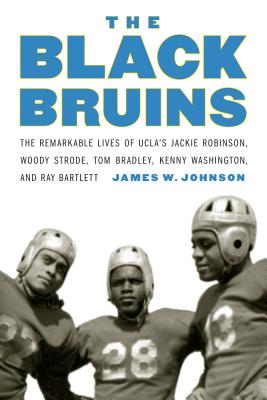 The Black Bruins
The Remarkable Lives of UCLA's Jackie Robinson, Woody Strode, Tom Bradley, Kenny Washington, and Ray Bartlett
Hardcover

* Individual store prices may vary.
Other Editions of This Title:
Paperback (10/1/2019)
Description
The Black Bruins chronicles the inspirational lives of five Black athletes who faced racial discrimination as teammates at UCLA in the late 1930s. Best known among them was Jackie Robinson, a four‑star athlete for the Bruins who went on to break the color barrier in Major League Baseball and become a leader in the civil rights movement after his retirement. Joining him were Kenny Washington, Woody Strode, Ray Bartlett, and Tom Bradley—the four played starring roles in an era when fewer than a dozen major colleges had black players on their rosters. This rejection of the "gentleman's agreement," which kept teams from fielding black players against all-white teams, inspired black Angelinos and the African American press to adopt the teammates as their own.

Kenny Washington became the first African American player to sign with an NFL team in the post–World War II era and later became a Los Angeles police officer and actor. Woody Strode, a Bruins football and track star, broke into the NFL with Washington in 1946 as a Los Angeles Ram and went on to act in at least fifty‑seven full-length feature films. Ray Bartlett, a football, basketball, baseball, and track athlete, became the second African American to join the Pasadena Police Department, later donating his time to civic affairs and charity. Tom Bradley, a runner for the Bruins' track team, spent twenty years fighting racial discrimination in the Los Angeles Police Department before being elected the first black mayor of Los Angeles.
 
Praise For The Black Bruins: The Remarkable Lives of UCLA's Jackie Robinson, Woody Strode, Tom Bradley, Kenny Washington, and Ray Bartlett…
"Johnson engagingly captures the lives, struggles, and triumphs of five men whose greatness transcended American sports."—Kirkus starred review

"Johnson has a novelist's skill with narrative, which gives extra flair to this fascinating look at an era of evolving racial attitudes."—Wes Lukowsky, Booklist

"What happens after UCLA is what makes this book an important one to read for those readers who are interested in the civil rights movement and the integration of sports and entertainment."—Guy Who Reviews Sports Books

"James Johnson offers a well-researched analysis of the careers of the young athletes, from the discrimination they faced on the playing fields in Westwood through the success, and even fame, they achieved in their professional lives. . . . This highly-readable book should not be relegated to a sports library, despite its absorbing accounts of early Bruins football: readers interested in social and cultural history will be intrigued by the surprising impact of the five on the civil rights movement."—Helene Woodhams, Arizona Daily Star

"James W. Johnson's The Black Bruins maps the rise of five former Bruins' athletes who not only helped further the integration of college sport, but each became trailblazers in their own right. . . . The Black Bruins is a home-run for those unfamiliar with both UCLA's modest—yet significant—contribution in integrating college sports in the late 1930s and the five former teammates who helped put UCLA on the map. The book also reminds readers that narratives are not singular, but intersect with others. Perhaps an existential take-away from The Black Bruins is one that compels us not only to consider more carefully how to appropriate and build upon such legacies, but also to better see how our own diverse and distinct California narratives connect to each other."—Nickolas Hardy, Boom California

"Johnson brings these five meaningful lives into full, vivid view, and he reminds his readers of their significant contributions to American sport and race relations."—Jack Ryan, Aethlon

"A reader interested in the compelling stories of five men who spent their lives breaking down racial exclusion in college football, major league baseball, the NFL, in film, and in politics will find much to enjoy here. . . . The lives of these men also expose much about the social and political history of race in the twentieth-century United States."—Andrew Doyle, Journal of Arizona History

"Must-reading for anyone who would truly understand the foundations of activism among black athletes today and their evolved sense of a broader role and obligation in society beyond athletic proficiency and performance."—Harry Edwards, professor emeritus of sociology at the University of California, Berkeley
 

"Five African American men enrolled at UCLA in the late 1930s, touching off a revolution in collegiate sports, introducing integration to Major League Baseball and pro football, and bringing diversity to public life. This well-researched, engrossing account brings four athletes into sharp focus as they move from high-school and university athletic fame to national and regional prominence and groundbreaking civic and social achievement."—Jim Price, editor, writer, and sports historian
 

"Those who came before me, detailed in this book, paved the way not only for my life as a minority student-athlete and later athletic director at UCLA; they also provided the opportunity for future generations of Bruins from every walk of life to become barrier-breakers as well."—Dan Guerrero, director of athletics at UCLA
 
University of Nebraska Press, 9781496201836, 320pp.
Publication Date: February 1, 2018
About the Author
James W. Johnson is professor emeritus of journalism at the University of Arizona in Tucson. He is the author of several books, including The Dandy Dons: Bill Russell, K. C. Jones, Phil Woolpert, and One of College Basketball's Greatest and Most Innovative Teams (Bison Books, 2009) and The Wow Boys: A Coach, a Team, and a Turning Point in College Football (Bison Books, 2006).