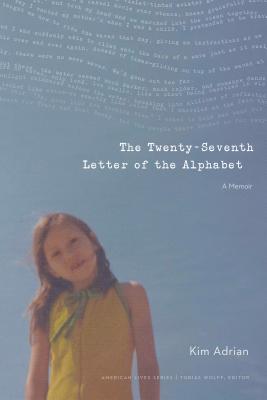 The Twenty-Seventh Letter of the Alphabet
A Memoir (American Lives )
Paperback

* Individual store prices may vary.
Description
Clear-sighted, darkly comic, and tender, The Twenty-Seventh Letter of the Alphabet is about a daughter's struggle to face the Medusa of generational trauma without turning to stone. Growing up in the New Jersey suburbs of the 1970s and 1980s in a family warped by mental illness, addiction, and violence, Kim Adrian spent her childhood ducking for cover from an alcoholic father prone to terrifying acts of rage and trudging through a fog of confusion with her mother, a suicidal incest survivor hooked on prescription drugs. Family memories were buried—even as they were formed—and truth was obscured by lies and fantasies.

In The Twenty-Seventh Letter of the Alphabet Adrian tries to make peace with this troubled past by cataloguing memories, anecdotes, and bits of family lore in the form of a glossary. But within this strategic reckoning of the past, the unruly present carves an unpredictable path as Adrian's aging mother plunges into ever-deeper realms of drug-fueled paranoia. Ultimately, the glossary's imposed order serves less to organize emotional chaos than to expose difficult but necessary truths, such as the fact that some problems simply can't be solved, and that loving someone doesn't necessarily mean saving them.
 
Praise For The Twenty-Seventh Letter of the Alphabet: A Memoir (American Lives )…
"The Twenty-Seventh Letter of the Alphabet is a feat on many levels. Adrian tells a harrowing story, surprisingly redeemed by her own sweet family, but in many ways also continuing. She gives it meaning without having answers to all the questions she still asks herself. Her work as glossator is astonishing and inventive. Her glossary is strangely gripping, with a momentum pulling the reader in and through. The result is whimsical, even darkly funny at times, brimming with compassion, terribly sad and deeply loving. Memoir readers should not miss this singular offering."—Julia Kastner, Shelf Awareness

"[Adrian's] glossary, in making a place for everything, has provided a way through this harrowing tale of the toll of generational trauma. That she has managed this with generosity, honesty, and insight shows she has become a real writer after all."—Kate Martin Rowe, Los Angeles Review of Books

"A stunning merger of form and content; a remarkable portrait-becomes-self-portrait; and something like a master class in complicity."—David Shields, author of Reality Hunger

"The Twenty-Seventh Letter of the Alphabet is a revelation. By structuring the book in the unconventional form of a glossary, Kim Adrian allows the reader into the very intimate mechanics of her memory. Each page I read pulled me deeper under the book's peculiar spell. Through Adrian's rigorous attention to detail I found myself involuntarily drawn into her perspective, both as a child and a grown woman, hungry to make sense of this troubled family and this vibrantly unstable mother."—Alysia Abbott, author of Fairyland: A Memoir of My Father 

"A vivid, vibrant glossary of a life. Adrian's sharp prose and unique form combine to illustrate how powerfully our childhoods reverberate throughout our lives."—Dinty W. Moore, author of Between Panic and Desire

"This is desperately serious work, an exacting memoir that excavates, with compassion for all involved, the harrowingly repetitive patterns of abuse as well as moments of something like hope, crushable and delicate, thwarted, and yet renewable. An agonized, beautiful, unflinching account." —Lee Upton, author of Visitations: Stories

"Kim Adrian's The Twenty-Seventh Letter of the Alphabet is an intimate portrait of the chaos and confusion of her mother's mental illness. It's also a deep meditation on storytelling itself—our desire to impose order, discover meaning, heal what is broken in us, and find a way to live with what can't be fixed. Innovative in form and comprised of razor-sharp vignettes, Adrian summons a rare, hard-won compassion for both her mother and herself."—Steve Edwards, author of Breaking into the Backcountry

"Out of a fragmented, deeply moving, and dazzling narrative, the author pieces together [a] hard-won love, made possible by her refusal to give up. Many books are described as 'brave'—this one really is."—Sue William Silverman, author of The Pat Boone Fan Club: My Life as a White Anglo-Saxon Jew

"The Twenty-Seventh Letter of the Alphabet astonishes from 'A' all the way to the end. Funny, sad, unassuming, wise—exquisitely written—it will make you laugh, cry, wonder, and hope. You (and your vocabulary) will be the better for reading this beautiful book."—Dinah Lenney, author of The Object Parade 

"Kim Adrian's portrait of her mother—a woman who inflicts considerable damage, having had plenty done to her—is darkly comic, probing, and full of compassion. This memoir unfolds in the startling form of a glossary: an A-to-Z of key words that have shaped Adrian's coming-to-terms with family and its mysteries. The Twenty-Seventh Letter of the Alphabet is altogether remarkable."—Martha Cooley, author of Guesswork: A Reckoning With Loss
University of Nebraska Press, 9781496201973, 304pp.
Publication Date: October 1, 2018
About the Author
Kim Adrian is the author of Sock and the editor of The Shell Game: Writers Play with Borrowed Forms (Nebraska, 2018).