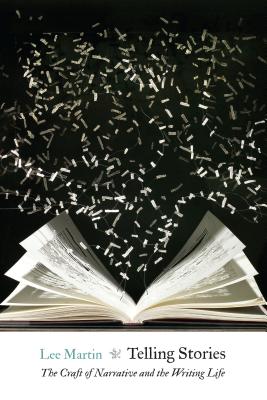 Telling Stories
The Craft of Narrative and the Writing Life
Paperback

* Individual store prices may vary.
Description
A prolific and award-winning writer, Lee Martin has put pen to paper to offer his wisdom, honed during thirty years of teaching the oh-so-elusive art of writing. Telling Stories is intended for anyone interested in thinking more about the elements of storytelling in short stories, novels, and memoirs. Martin clearly delineates helpful and practical techniques for demystifying the writing process and provides tools for perfecting the art of the scene, characterization, detail, point of view, language, and revision—in short, the art of writing. His discussion of the craft in his own life draws from experiences, memories, and stories to provide a more personal perspective on the elements of writing.

Martin provides encouragement by sharing what he's learned from his journey through frustrations, challenges, and successes. Most important, Telling Stories emphasizes that you are not alone on this journey and that writers must remain focused on what they love: the process of moving words on the page. By focusing on that purpose, Martin contends, the journey will always take you where you're meant to go.
 
Praise For Telling Stories: The Craft of Narrative and the Writing Life…
"[Martin's] own sentences are like bright sun-polished bones on a beach: sparse outlines nevertheless telling their own devastating story. No doubt aspiring writers will appreciate this honesty, and may find many of the writing prompts here helpful, particularly to unclog a blockage. But it is Martin's own literary journey that is most compelling."—Sara Lonsdale, Times Literary Supplement

"Martin combines writing tips with examples from literature and his own life and teachings. It's a clever, warm-hearted book for writers of fiction or creative nonfiction. It could be used in creative writing classes or kept on the desk for those days one needs a little shot of inspiration."—Debbie Hagan, Brevity

"'Why shouldn't good writing be hard? It's our attempt at salvation,' Lee Martin says in this exceptional book. Martin, through craft lessons, exercises, and literary examples, helps writers discover salvation one carefully selected word at a time."—Sue William Silverman, author of Fearless Confessions: A Writer's Guide to Memoir
 

"Lee Martin has long been one of my favorite writers of fiction and memoir, and now he's one of my favorite writers of advice about the writer's craft. Everyone who writes, or wants to, should read this wise and inspiring book."—David Jauss, author of On Writing Fiction
University of Nebraska Press, 9781496202024, 258pp.
Publication Date: October 1, 2017
About the Author
Lee Martin is a distinguished professor of English and teaches creative writing at Ohio State University. He is the author of several books, including Such a Life (Nebraska, 2012), From Our House (Nebraska, 2009), The Bright Forever (finalist for the 2006 Pulitzer Prize for fiction), and Turning Bones (Nebraska, 2003).