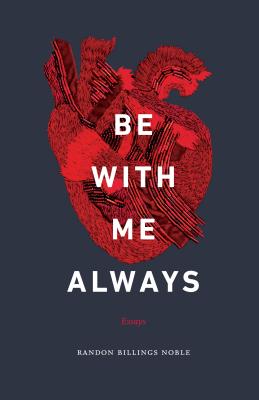 Be with Me Always
Essays
Paperback

* Individual store prices may vary.
Description
"Be with me always—take any form—drive me mad! only do not leave me in this abyss, where I cannot find you!" Thus does Heathcliff beg his dead Cathy in Wuthering Heights. He wants to be haunted—he insists on it. Randon Billings Noble does too. Instead of exorcising the ghosts of her past, she hopes for their cold hands to knock at the window and to linger. Be with Me Always is a collection of essays that explore hauntedness by considering how the ghosts of our pasts cling to us.

In a way, all good essays are about the things that haunt us until we have somehow embraced or understood them. Here, Noble considers the ways she has been haunted—by a near-death experience, the gaze of a nude model, thoughts of widowhood, Anne Boleyn's violent death, a book she can't stop reading, a past lover who shadows her thoughts—in essays both pleasant and bitter, traditional and lyrical, and persistently evocative and unforgettable.
 
Praise For Be with Me Always: Essays…
"A motley collection of pieces. . . . Essayist Noble has a focused, tight style, often employing the technique of looking at somewhat discrete items (or memories) and seeking connections among them. . . . Unique eyes look at familiar things and somehow make them seem both odder and more familiar."—Kirkus

"Be With Me Always works its magic in profound, subtle, seamless ways. The meticulous craftsmanship in the construction of these essays is equally matched by Noble's beautiful, confident, assured vision."—Christopher John Stephens, Pop Matters

"Be with Me Always has much to teach its readers about longing, experimental writing, and the fruits of reading extensively. This collection is sure to be taught in writing classes far and wide. Noble teaches us the truths of the flaneur, to be a good outsider and essayist: It is important to watch and to try, to think and to create."—Gretchen Lida, Punctuate

"The twenty-six essays in Noble's collection confront hauntings on a personal and literary scale. Famous figures of history and culture interweave with experiences that span Noble's girlhood to present day. She wrangles with the complexities of love, ambition, identity, rejection, legacy, and parenthood. At heart is the question of who's doing the haunting? Do we haunt ourselves? Why would we do that? . . . Noble powerfully reminds us that hauntings spring from the same desire that propels enduring essays, the desire to live an examined life."—Magin LaSov Gregg, Brevity

"Like a girl, perfumed, attempting to become a flower, Noble's essays try to become the things they describe; her work reminds us of the labor, and the ingenuity, needed to thoroughly examine a life. . . . Be With Me Always will read like a best friend who understands you and your love of the quick, compressed, and strange."—Amy V. Blakemore, Barrelhouse Reviews

"Noble gives us essays that elevate the rawness of real life with an overarching theme of hauntedness. From hard choices to characters in classic literature, from a near-death experience to past lovers, she has written a book that appeals to readers of both modern pop culture magazines and Emily Brontë."—Hannah Grieco, Washington City Paper

"The essays in Randon Billings Noble's dazzlingly honest debut collection explore the varied hauntings that linger through the years and even centuries of human action."—Kari Hanlin, Mid-American Review

"Noble and her collection are fascinating companions indeed."—Katy Major, River Teeth

"Be with Me Always leaves ample room to breathe and stretch—both heart and mind."—Brandel France de Bravo, Salamander

"In her brilliant collection Be with Me Always, Randon Billings Noble explores the frailty of romance, of the human body, and of us all, with startling honesty, admirable ingenuity, genuine insight, and, always, with energy and surprise."—Dinty W. Moore, author of Between Panic and Desire
University of Nebraska Press, 9781496205049, 186pp.
Publication Date: March 1, 2019
About the Author
Randon Billings Noble is an essayist. Her work has been published in the Modern Love column of the New York Times, the Georgia Review, Fourth Genre, the Los Angeles Review of Books, Creative Nonfiction, and elsewhere. Her essay "The Heart as a Torn Muscle," originally published in Brevity, was listed as a Notable Essay in The Best American Essays 2016.