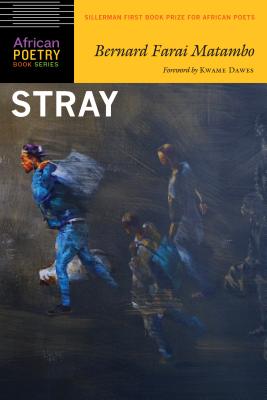 Stray (African Poetry Book ) (Paperback)
University of Nebraska Press, 9781496205582, 96pp.
Publication Date: March 1, 2018
* Individual store prices may vary.
Description
Winner of the Sillerman First Book Prize for African Poets, Zimbabwean writer Bernard Farai Matambo's poems in Stray favor a prose-shaped line as they uncover the contradictory impulses in search of emotional and intellectual truth. Stray not only captures the essence of identity but also eloquently articulates the pain of displacement and speaks to the vulnerability of Africans who have left their native continent. This collection delicately examines the theme of migration—migration in a literal, geographic sense; migration of language from one lexicon to another; migration of a poem toward prose—and the instability of the creative experience in the broader sense.
 
About the Author
Bernard Farai Matambo is an assistant professor of creative writing at Oberlin College. His prose and poetry have appeared in several publications, including Copper Nickel, New Orleans Review, Ohioana Quarterly, Pleiades, and Plume. 
Praise For Stray (African Poetry Book )…
"Matambo deconstructs the tense and often contradictory immigrant experience in his excellent debut collection."—Publishers Weekly
— Publishers Weekly
"Africa beckons—you want some of me?—and the poet takes pains, takes pens to the stuff of his life, so that we can experience the Zimbabwe in the man."—Matt Sutherland, Foreword
— Matt Sutherland
"Bernard Farai Matambo casts images that quiver with terror and desire. These images root within us as if we were the very landscape the poet renders spectral with the residue of human passions: cities of ruined arches and potshards underfoot, the human cost of conflict, populations bowed in reverence and fear. Matambo is an archer of lyric poetry. His words are 'drawn out and taut, anxious as catapults.'"—Gregory Pardlo, author of the Pulitzer Prize–winning Digest
 
— Gregory Pardlo
"Stray is a work of great sensual intelligence and evocative urgency, consistently intimate and political. With painstaking concentration and dazzling lyricism, Matambo dismembers the cult of pitiless masculine strength and paints a portrait of a 'half man, half anger' in the 'empire of the zoo.' Then he puts this 'man with an ape inside him' through the meat mincer of African and American histories. Matambo's short prose poems are gulped down like bitter pills of remembrance and forgetting."—Valzhyna Mort, author of Collected Body
 
— Valzhyna Mort
"Bernard Farai Matambo debuts a collection that's lush, yet urgent, determined to design a language that can feed the hunger for truth. The poems are filled with strays: people who have chosen the solitude and danger of separation—or had it thrust upon them. Though they gesture and reach toward some sense of belonging that blood, race, proximity, or shared experience might seem to guarantee, these wanderers are never more alone than when they are with each other. Follow Matambo's poems as they stray from Zimbabwe to the U.S.A. and back, through landscapes haunted and illuminated by unforgettable images: 'Once I caught a bough leaping into the air, a thicket of birds lifting off of it, dissolving among the stars.'"—Evie Shockley, author of semiautomatic
 
— Evie Shockley