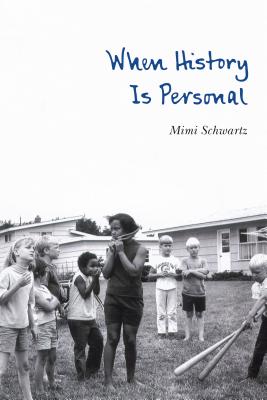 When History Is Personal
Paperback

* Individual store prices may vary.
Description
When History Is Personal contains the stories of twenty-five moments in Mimi Schwartz's life, each heightened by its connection to historical, political, and social issues. These essays look both inward and outward so that these individualized tales tell a larger story—of assimilation, the women's movement, racism, anti-Semitism, end-of-life issues, ethics in writing, digital and corporate challenges, and courtroom justice.

A shrewd and discerning storyteller, Schwartz captures history from her vantage as a child of German-Jewish immigrants, a wife of over fifty years, a breast cancer survivor, a working mother, a traveler, a tennis player, a daughter, and a widow. In adding her personal story to the larger narrative of history, culture, and politics, Schwartz invites readers to consider her personal take alongside "official" histories and offers readers fresh assessments of our collective past.
 
Praise For When History Is Personal…
"Although the essays are highly personal, most readers will relate to the larger pictures of human rights, racism, the women's movement, and a score of other topics. Expressive, intimate snapshots of one woman's life set atop the backdrop of global history."—Kirkus
"It's all here—a whole life—and one imagines Schwartz's family must feel immense pleasure in having such a complete record to pass down to further generations. . . . Schwartz's work certainly could serve as inspiration for those keen to write memoirs of their own."—Laura Farmer, 
Gazette
"The book offers a deep sense of place, whether that place is a chicken farm on Long Island, an historic home in Princeton, or the German village where the author's father spent his boyhood before World War II."—Johanna Ginsberg, 
New Jersey Jewish News
"Schwartz opens herself and her life up to be examined and used to compare to your own life in a way that will allow you to see how you have influenced your own history and the world around you."—
Nerdy Girl Express
"Schwartz quite skillfully creates pictures with her words. In writing about issues large or small, her prose is a pleasure to read. She captures scenes and recounts dialogue in a way that makes each of these essays a jewel. Her ability to choose the telling detail—a phrase from a song lyric, the description of a tattoo used to hide a breast cancer scar, the words said by a nurse as her husband is dying—is the mark of an effective storyteller."—Vicki Mayk, 
Hippocampus Magazine
"Perfect-pitch, impeccable observation, penetrating insight. . . . A fresh and vivid approach to many dominant themes long cherished by American writers—the dynamics of remembering and forgetting, the significance of place, the conflict of individuals and institutions, the inseparability of past and present."—Robert Atwan, series editor of Best American Essays   
"How do you write personal history—memoir—without narcissism? I watch Mimi Schwartz do it with sheer enjoyment. In a world racked by conflict, Schwartz is a clear-eyed advocate of storytelling that connects things with their supposed opposites—sibling to sibling, white neighbor to black neighbor, Israeli to Palestinian, Jew to German, age to youth, a New England hair salon to the opiate epidemic, grief to renewal, and the individual self to the world. 'Both sides' is her mantra. And how write about aging without self-pity? With humor, thank you, and also—as in tennis—'[while] leaning toward the ball, however hard and fast it comes.'"—Alicia Ostriker, author of 
Waiting for the Light
"The essays in
When History Is Personal
, by turns incisive, sobering, funny, lyrical, and challenging, accrue to a complex inquiry that examines the way we negotiate between the ways we know ourselves and the identities we are assigned by history and culture. Schwartz shows us that the way to repair the disruptions of history is to look from within one's own story. Her writing is vivid and compelling, but also something more, a re-substantiation of lives that mattered, a testament. Brava!"—Richard Hoffman, author of
Half the House
"In this absorbing, compelling set of twenty-five connected essays, Mimi Schwartz takes readers along on a journey across decades and continents to explore the ways in which the personal and historical, the familial and the political, shape us and anchor us in the world. As one essay opens into the next, Schwartz, a magnificent writer and storyteller, moves gracefully and effortlessly between narrating and reflecting, weaving her reflections into a most pleasurable and satisfying essay collection. This is creative nonfiction at its finest."—Nancy Sommers, Harvard University    
University of Nebraska Press, 9781496206305, 270pp.
Publication Date: March 1, 2018
About the Author
Mimi Schwartz is a professor emerita in the writing program at Stockton University. She is the award-winning author of Good Neighbors, Bad Times: Echoes of My Father's German Village(Nebraska, 2008) and Thoughts from a Queen-Sized Bed (Nebraska, 2003) and is the coauthor of Writing True: The Art and Craft of Creative Nonfiction. Her essays have been widely anthologized, and ten of them have been listed as Notables in the Best American Series.