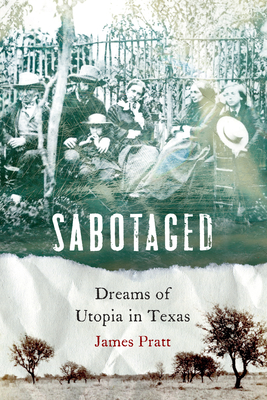 Sabotaged
Dreams of Utopia in Texas
Hardcover

* Individual store prices may vary.
Description
2020 Texas Old Missions and Forts Restoration Association (TOMFRA) Book Award 

Alongside the various people moving into and through the nineteenth-century Texas frontier was a group of European intellectuals bent on establishing a socialist utopia near the hamlet of Dallas. Their inspiration, French philosopher Charles Fourier, envisioned a society in which basic human ambitions would be expressed and cultivated, tied together by the bonds of emotion. Fourier's self-appointed disciple Victor Considerant led the establishment of La Réunion in 1855, organized under a Paris stock company. James Pratt weaves together the dramatic story of this utopia: the complex tale of a diverse group of Europeans who sought a new society but were forced to face the realities of life in nineteenth-century Texas.

Considerant's followers endured a long ocean voyage with Spanish gunboats following in their Caribbean wake. They brushed blooming magnolias through Buffalo Bayou between Galveston Bay and Houston—so narrow a channel that two ships could not pass simultaneously. They walked for three weeks across barren country, came into conflict with the Texas legislature over land, and had to buy their stolen horses back from Chief Ned, a famous Delaware Indian living in Texas. They were buffeted in the rising political winds of abolition, and droughts ruined their crops. In the end, however, it was their flamboyant leader Victor Considerant who sabotaged their dream.
 
Praise For Sabotaged: Dreams of Utopia in Texas…
"[Sabotaged] tells the long-needed story of La Réunion and should be a welcome addition to the library of anyone who cares about Dallas or Fort Worth history."—Richard Selcer, Southwestern Historical Quarterly

"Historian Pratt has taken a complex subject and narrated the rise and failure in a fascinating way."—Chuck Parsons, Tombstone Epitaph

"Sabotaged is the true story of an attempt to create a socialist utopia by a most unlikely group of elite Europeans at a most unlikely place in America called Texas. Their failure was caused by bad dreaming, poor planning, and harsh weather as well as clashing—sabotaging—personalities and egos. James Pratt's account of it all is detailed—and riveting."—Jim Lehrer, former executive editor and anchor for PBS NewsHour and author of Top Down: A Novel of the Kennedy Assassination

"James Pratt's history of La Réunion is one of the most significant contributions to the historiography of the Dallas area in decades. . . . Pratt's portrait adds depth and drama to the story, which began with idealistic hopes, involved hardships of almost biblical proportions, and ended in division and recriminations. It's a must for anyone interested in Dallas history, nineteenth-century utopian communities, or just a fascinating good read."—Michael V. Hazel, historian and author of Dallas: A History of "Big D"

"At last! James Pratt's long-anticipated account of the utopian community La Réunion fills a missing but essential and romantic chapter of Dallas's early history. It's a remarkable story with astounding new details. . . . Pratt's work is important not only for Dallas's pre–Civil War history but as a welcome addition to the literature of the nineteenth-century utopian community phenomenon."—Darwin Payne, professor emeritus of communications at Southern Methodist University and author of Indomitable Sarah: The Life of Judge Sarah T. Hughes
Bison Books, 9781496207920, 336pp.
Publication Date: March 1, 2020
About the Author
James Pratt (1927–2018) practiced architecture under various firm names, including James Pratt Architecture and Urban Design. Son of a genealogist librarian and a frontier banker, Pratt was fascinated by the nearly forgotten nineteenth-century La Réunion immigrants who introduced their culture to Dallas, Texas. As founder of the La Réunion research project at the Dallas Historical Society, Pratt traveled extensively to ferret out the story of this failed experiment. He is coauthor of The Prairie's Yield: Forces Shaping Dallas Architecture from 1840 to 1962 and Environmental Encounter: Experiences in Decision-Making for the Built and Natural Environment.