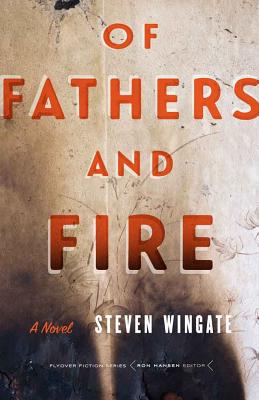 Of Fathers and Fire
A Novel (Flyover Fiction)
Paperback

* Individual store prices may vary.
Description
When Richie Thorpe and his ragtag religious band of ex-thieves arrive in the High Plains town of Suborney, Colorado, Tommy Sandor is captivated by the group. It's the summer of 1980 in the dusty, junkyard town, and the seventeen-year-old is wrestling with the forces shaping America and himself: the Iran hostage crisis, the incoming tide of Ronald Reagan's presidency, and the political rise of the Christian Right.

As Tommy is increasingly drawn to the group, his mother, Connie, grows frantic. She has been hiding the truth from her son, telling him that his father was a saxophonist from New York who never knew he had a child, and is lying low in Suborney to hide from Tommy's actual father—Richie Thorpe. Connie knows Richie has come for his son, and though she has witnessed Thorpe's mysterious powers, the desperation to protect her lie, her son, and their life begets a venom with an elemental power that threatens the whole town.
 
Praise For Of Fathers and Fire: A Novel (Flyover Fiction)…
"In its explorations of this wild and very American spirituality, Of Fathers and Fire places itself in an emerging context of literary treatments of the excesses, hazards, and fascinations of para-Christian faith."—Martyn Wendell Jones, Image

"Wingate writes fearlessly about the good, the bad, and the ugly in people and life in rural America. He is unafraid in his exploration of religion and the role it plays, for better and worse, in the lives of people searching for meaning."—Shelly Weinstein, Shelf Awareness

"Deeply felt, subtly innovative, utterly compelling, Steven Wingate's Of Fathers and Fire is an excellent novel by a talented novelist who deserves—and with this book I feel certain will find—a wide audience."—Robert Olen Butler, author of the Pulitzer Prize–winning A Good Scent from a Strange Mountain

"Steven Wingate has a rare feel for American landscapes and for our recent past. I admire his willingness to tackle genuinely controversial topics—including religious vicissitudes and our complex visions of masculinity. Wingate's keen sense of language houses an equally keen compassion for human plights."—Elizabeth Kostova, author of The Historian and The Shadow Land

"Steven Wingate writes so well about teenagers and parents, belief and doubt, saxophone playing and rain making, and the kind of small town where everyone knows everyone. Of Fathers and Fire is a magical and deeply satisfying novel."—Margot Livesey, author of Mercury and The Hidden Machinery

"Of Fathers and Fire employs magical realism in a way that few American writers have been able to achieve. . . . Beautifully detailed, from the geography of Colorado and Nebraska to the trivia of daily living. Steven Wingate has an eye for the peripheral, the seemingly insignificant, the almost forgotten. Much of the novel's power comes from Wingate's juxtaposition of the mundane with the miraculous."—Mary Clearman Blew, author of Ruby Dreams of Janis Joplin

"A wonderfully strange and compelling coming-of-age novel that delves into the deep pull and dangers of religion, the grace of music, and the importance of finding one's own path. . . . This is a beautiful book of a son seeking the truth, both personal and existential—which is, after all, the best quest any of us can go on."—Laura Pritchett, author of Stars Go Blue

"There is something timeless and mythic in Wingate's prose. The hardscrabble prairie life depicted here, with crisp, vibrant characters seeking their place in the world, has the same spiritual complexity of Flannery O'Connor, the same moral weight and imagination. Vital, timely, and unforgettable, Wingate's story brings us into the heart of America so that we might ask questions of our own hearts, our own minds, and our own souls."—Patrick Hicks, author of The Commandant of Lubizec and The Collector of Names

"Hate and love, secrets and redemption, prayer and violence, all these swirl together in this beautiful, brutal whirlwind of a novel fueled by elemental flames of the human heart. Like some mystic prophet, Wingate delivers signs and wonders in generous abundance."—Neil Connelly, author of In the Wake of Our Vows

"Few writers write as fearlessly about matters of faith as Steven Wingate. The characters are vivid and compelling as they search for answers and connections, ever on the perilous road to either destruction or redemption."—Robert Garner McBrearty, Sherwood Anderson Foundation Fiction Award–winning author of Episode and A Night at the Y
University of Nebraska Press, 9781496211866, 320pp.
Publication Date: April 1, 2019
About the Author
Steven Wingate is the author of the award-winning short story collection Wifeshopping and the prose poem collection Thirty-One Octets: Incantations and Meditations. His interactive digital memoir daddylabyrinth premiered at the Art/Science Museum of Singapore. He is an associate professor of English at South Dakota State University.