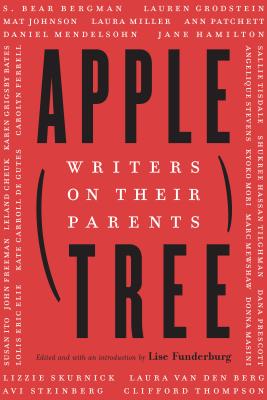 Apple, Tree
Writers on Their Parents
Hardcover

* Individual store prices may vary.
Other Editions of This Title:
MP3 CD (12/24/2019)
Compact Disc (12/24/2019)
Description
It happens to us all: we think we've settled into an identity, a self, and then out of nowhere and with great force, the traces of our parents appear to us, in us—in mirrors, in gestures, in reaction and reactivity, at weddings and funerals, and in troubled thoughts that crouch in dark corners of our minds.

In this masterful collection of new essays, the apple looks at the tree. Twenty-five writers deftly explore a trait they've inherited from a parent, reflecting on how it affects the lives they lead today—how it shifts their relationship to that parent (sometimes posthumously) and to their sense of self.

Apple, Tree's all-star lineup of writers brings eloquence, integrity, and humor to topics such as arrogance, obsession, psychics, grudges, table manners, luck, and laundry. Contributors include Laura van den Berg, S. Bear Bergman, John Freeman, Jane Hamilton, Mat Johnson, Daniel Mendelsohn, Kyoko Mori, Ann Patchett, and Sallie Tisdale, among others. Together, their pieces form a prismatic meditation on how we make fresh sense of ourselves and our parents when we see the pieces of them that live on in us.

 


 
 
Praise For Apple, Tree: Writers on Their Parents…
"Apple, Tree is a sweet, smart collection, and—it has to be said—a perfect gift for a parent you love."—Lily Meyer, NPR
— Lily Meyer
"These essays, in addition to being resonant in their own right, will also move readers to recollect stories of their own parents."—Publishers Weekly, starred review
— Publishers Weekly
"Funderburg, who has explored her own parents and background in her memoir "Pig Candy," here gathers pieces from writers about a trait they've inherited from a mother or father. Ann Patchett, Daniel Mendelsohn and Laura van den Berg, among others, meditate on how attributes both physical and spiritual tie us to and distance us from our elders."—Bethanne Patrick, Washington Post
— Bethanne Patrick
"Undoubtedly, parents influence us more deeply and irrevocably than any other people in our lives. The apple, after all, doesn't fall very far from the tree. This topic is given its rich and thoughtful due in Apple, Tree: Writers on Their Parents, an engrossing anthology of 25 delightfully diverse personal essays."—Laurie Hertzel, (Minneapolis) Star Tribune
— Laurie Hertzel
"Lise Funderburg has collected diverse stories of parenthood and childhood, of love, loss, and remembrance. Apple, Tree is the perfect collection for anyone who has ever considered what legacies parents leave to their children."—Hannah Straton, Hippocampus Magazine
— Hannah Straton
"Apple, Tree provides a thoughtful meditation on individuals' connections to heritage and legacy."—Elisabeth Woronzoff, Pop Matters
— Elisabeth Woronzoff
"Apple, Tree is an unflinching exploration of the complicated geography of families. At once heartfelt and searching, these affecting stories remind us that parental likenesses once shunned can surprise, move, and reconnect us in unexpected ways."—Andrea Barnet, author of Visionary Women: How Rachel Carson, Jane Jacobs, Jane Goodall, and Alice Waters Changed Our World
— Andrea Barnet
University of Nebraska Press, 9781496212092, 232pp.
Publication Date: September 1, 2019
About the Author
Lise Funderburg is a writer and editor and a lecturer in creative writing at the University of Pennsylvania. Funderburg's collection of oral histories, Black, White, Other: Biracial Americans Talk about Race and Identity, has become a core text in the study of American multiracial identity in college courses around the world. Her latest book is Pig Candy: Taking My Father South, Taking My Father Home. Her work has appeared in the New York Times, the Washington Post, the Philadelphia Inquirer, National Geographic, Salon and the Nation.

Complete list of contributors: Karen Grigsby Bates, S. Bear Bergman, Kate Carroll de Gutes, Leland Cheuk, Lolis Eric Elie, Carolyn Ferrell, John Freeman, Lauren Grodstein, Jane Hamilton, Susan Ito, Mat Johnson, Donna Masini, Daniel Mendelsohn, Marc Mewshaw, Laura Miller, Kyoko Mori, Ann Patchett, Dana Prescott, Lizzie Skurnick, Avi Steinberg, Angelique Stevens, Clifford Thompson, Shukree Hassan Tilghman, Sallie Tisdale, and Laura van den Berg.