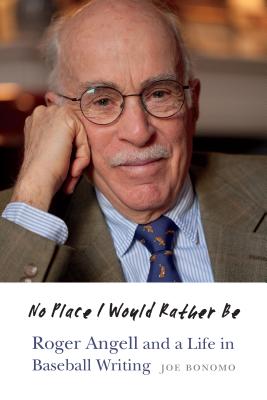 No Place I Would Rather Be (Hardcover)
Roger Angell and a Life in Baseball Writing
University of Nebraska Press, 9781496213259, 232pp.
Publication Date: May 1, 2019
* Individual store prices may vary.
Description
Legendary New Yorker writer and editor Roger Angell is considered to be among the greatest baseball writers. He brings a fan's love, a fiction writer's eye, and an essayist's sensibility to the game. No other baseball writer has a through line quite like Angell's: born in 1920, he was an avid fan of the game by the Depression era, when he watched Babe Ruth and Lou Gehrig hit home runs at Yankee Stadium. He began writing about baseball in 1962 and continued through the decades, lately blogging about baseball's postseasons.

No Place I Would Rather Be tells the story of Angell's contribution to sportswriting, including his early short stories, pieces for the New Yorker, autobiographical essays, seven books, and the common threads that run through them. His work reflects rapidly changing mores as well as evolving forces on and off the field, reacting to a half century of cultural turmoil, shifts in trends and professional attitudes of ballplayers and executives, and a complex, discerning, and diverse audience. Baseball is both change and constancy, and Roger Angell is the preeminent essayist of that paradox. His writing encompasses fondness for the past, a sober reckoning of the present, and hope for the future of the game.
 
About the Author
Joe Bonomo teaches in the Department of English at Northern Illinois University. He is the author or editor of numerous books, including Field Recordings from the Inside: Essays; Conversations with Greil Marcus; Sweat: The Story of the Fleshtones, America's Garage Band; and Jerry Lee Lewis: Lost and Found.
 
 
Praise For No Place I Would Rather Be: Roger Angell and a Life in Baseball Writing…
"A rich adventure."—Tom Hoffarth, fartheroffthewall.com
— Tom Hoffarth
"[No Place I Would Rather Be] offers a look behind the scenes of a remarkable career in a changing field."—New York Post
— New York Post
"In 2014, Roger Angell was in Cooperstown at the Baseball Hall of Fame to receive the J. G. Taylor Spink Award "for meritorious contributions to baseball writing." Joe Bonomo's book offers an infinite number of reasons why this honor was richly deserved. It is a book worth reading."—Richard Crepeau, New York Journal of Books
— Richard Crepeau
"Of the recent books I have read about baseball, Joe Bonomo's book chronicling the career of Roger Angell, No Place I Would Rather Be, is one of the best, not only for Bonomo's considerable writing skills, but also for his compelling portrayal of Angell's erudition and unique focus on the 'lesser and sweeter moments' of the sport he loves."—Jill Brennan O'Brien, America Magazine
— Jill Brennan O'Brien
"The game of baseball best represents our country's soul, and no one has chronicled its beauty better than Roger Angell. With only class and eloquence, Roger's insights have taught us all—starting with sport and extending to humanity."—Joe Torre, Hall of Famer and four-time World Championship manager of the New York Yankees and MLB's chief baseball officer
— Joe Torre
"Roger Angell is an American treasure. Fans of baseball and the craft of writing will enjoy this inside look at one of the all-time best."—Tom Verducci, author of The Yankee Years and The Cubs Way
— Tom Verducci
"Joe Bonomo's immensely enjoyable book examines Angell's baseball writing through the decades, shedding welcome light on the forces and events (both in the game and in Angell's life) that shaped him into the greatest baseball writer of the post–World War II era. It's an absolute must for any Angell fan and for anyone who digs great baseball writing in general."—Dan Epstein, author of Big Hair and Plastic Grass: A Funky Ride Through Baseball and America in the Swinging '70s
— Dan Epstein
"Joe Bonomo has curated an enjoyable journey through the career and work of Roger Angell, the godfather to generations of outsiders who set out to bring a fresh perspective to baseball coverage. If you've ever immersed yourself in Angell's prose and wondered where his incisive wit, ear for dialogue, and attention to detail came from, or wished to trace the development of recurring themes throughout his oeuvre, No Place I Would Rather Be is well worth your time."—Jay Jaffe, author of The Cooperstown Casebook and a senior writer for FanGraphs.com
— Jay Jaffe