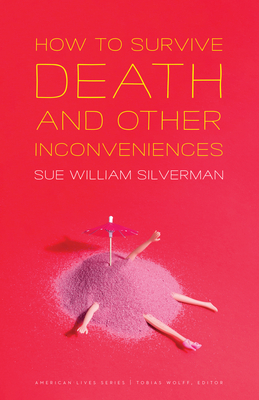 How to Survive Death and Other Inconveniences (American Lives )
Paperback

* Individual store prices may vary.
Description
Many are haunted and obsessed by their own eventual deaths, but perhaps no one as much as Sue William Silverman. This thematically linked collection of essays charts Silverman's attempt to confront her fears of that ultimate unknown. Her dread was fomented in part by a sexual assault, hidden for years, that led to an awareness that death and sex are in some ways inextricable, an everyday reality many women know too well.
              
Through gallows humor, vivid realism, and fantastical speculation, How to Survive Death and Other Inconveniences explores this fear of death and the author's desire to survive it. From cruising New Jersey's industry-blighted landscape in a gold Plymouth to visiting the emergency room for maladies both real and imagined to suffering the stifling strictness of an intractable piano teacher, Silverman guards her memories for the same reason she resurrects archaic words—to use as talismans to ward off the inevitable. Ultimately, Silverman knows there is no way to survive death physically. Still, through language, commemoration, and metaphor, she searches for a sliver of transcendent immortality.
              
Praise For How to Survive Death and Other Inconveniences (American Lives )…
"Because of the distinctive subject matter and Silverman's vast writing  talents, How to Survive Death and Other Inconveniences will appeal to new and experienced readers alike; notably: it will also draw teachers of creative writing, who will cherish it for the many essays that can be taught as models of braided and segmented forms."—Jody Keisner, Hippocampus Magazine
— Jody Keisner
"Honoring subconscious logic, How to Survive Death and Other Inconveniences makes the gambit that the mysteries of the self are both keys to understanding and uncertainties to be celebrated. We become who we are without being fully conscious of our choices—probing those choices won't give us easy answers, but the discoveries along the way will be illuminating and well worth the necessary befuddlements."—Elizabeth Kadetsky, Literary Hub
— Elizabeth Kadetsky
"What do we do with those memories that carry with them the ability to sink us? According to Silverman, in order to survive and grow, we have to collect them, transform them, and let them transform us."—Chanel Dubofsky, Lilith
— Chanel Dubofsky
"A joyously unconventional memoir written at least in part as a hedge against mortality. It will shake loose memories, invite you to ponder, and, maybe best of all, make you laugh. This is a marvelously written, imaginative, and seriously funny book."—Abigail Thomas, New York Times best-selling author of What Comes Next and How to Like It
— Abigail Thomas
"With true originality and wit, Silverman takes readers on a wild ride through time, memory, pleasure, and trauma. What remains is a deeply human portrait of one woman's resilience and the power of her spirit. I couldn't put it down."—Christina Haag, New York Times best-selling author of Come to the Edge: A Love Story
— Christina Haag
University of Nebraska Press, 9781496214096, 222pp.
Publication Date: March 1, 2020
About the Author
Sue William Silverman is a memoirist, poet, and teacher of writing at the Vermont College of Fine Arts. She has published several books, including Because I Remember Terror, Father, I Remember You; Love Sick: One Woman's Journey through Sexual Addiction; The Pat Boone Fan Club: My Life as a White Anglo-Saxon Jew (Nebraska, 2014); and Fearless Confessions: A Writer's Guide to Memoir.