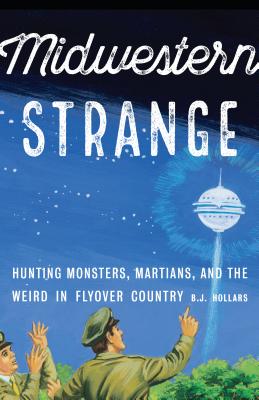 Midwestern Strange
Hunting Monsters, Martians, and the Weird in Flyover Country
Paperback

* Individual store prices may vary.
Description
Midwestern Strange chronicles B.J. Hollars's exploration of the mythic, lesser-known oddities of flyover country. The mysteries, ranging from bipedal wolf sightings to run-ins with pancake-flipping space aliens to a lumberjack-inspired "Hodag hoax," make this book a little bit X-Files, a little bit Ghostbusters, and a whole lot of Sherlock Holmes. Hollars's quest is not to confirm or debunk these mysteries but rather to seek out these unexplained phenomena to understand how they complicate our worldview and to discover what truths might be gleaned by reexamining the facts in our "post-truth" era.

Part memoir and part journalism, Midwestern Strange offers a fascinating, funny, and quirky account of flyover folklore that also contends with the ways such oddities retain cultural footholds. Hollars shows how grappling with such subjects might fortify us against the glut of misinformation now inundating our lives. By confronting monsters, Martians, and a cabinet of curiosities, we challenge ourselves to look beyond our presumptions and acknowledge that just because something is weird, doesn't mean it is wrong.
 
Praise For Midwestern Strange: Hunting Monsters, Martians, and the Weird in Flyover Country…
"Midwestern Strange is highly recommended for its perspective (as we say in the Midwest, "it's different"), but also for its satisfying prose. Hollars is a beautiful writer who entranced me with deftness of style from the formal to the unceremonious."—Adrian Koesters, Split Rock Review
— Adrian Koesters

"From Bigfoot to Area 51 to the Jersey Devil, the United States boasts plenty of legendary unsolved mysteries, and the Midwest has had its share of odd occurrences. B. J. Hollars takes a look at a few of these in the entertaining and informative travelogue Midwestern Strange."—Jeff Fleischer, Foreword Reviews
— Jeff Fleischer

"Crazy tales, from the turtle the size of a dining room table, which turned an Indiana family's life upside down, to stories of pancake-flipping visitors from outer space. Hollars meets some fascinating people in this quirky account that contends with the ways such oddities retain cultural footholds."—Marjie Ducey, Omaha World-Herald
— Marjie Ducey

"Midwestern Strange is a mixture of folklore and travelogue, with a touch of memoir. Ultimately, it's the story of a curious mind, hoping to be amazed."—Susan Neville, Indiana Magazine of History
— Susan Neville

"What happens when a professor ventures out to discover the unusual? Werewolves, UFOs, and mysterious creatures become his field of study, the road becomes his classroom, and this book becomes your guide to adventure."—Chad Lewis, author of Minnesota Road Guide to Mysterious Creatures

 
— Chad Lewis

"In this intriguing travelogue of marvels, B.J. Hollars encounters werewolves, giant turtles, Mothmen, flying saucers, and other phantoms that haunt the landscape of flyover country. The real wonders in this extraordinary book, however, are the fascinating people that Hollars meets along the way. Midwestern Strange has something for those who want to believe as well as for those who are looking to find the human heart at the center of these charming tales of the unknown."—Gregory L. Reece, author of Creatures of the Night and Weird Science and Bizarre Beliefs
 
— Gregory L. Reece
University of Nebraska Press, 9781496215604, 224pp.
Publication Date: September 1, 2019
About the Author
B.J. Hollars is an associate professor of English at the University of Wisconsin–Eau Claire. He is the author of numerous books, including This Is Only a Test, From the Mouths of Dogs: What Our Pets Teach Us about Life, Death, and Being Human (Nebraska, 2015), and Thirteen Loops: Race, Violence, and the Last Lynching in America.
Hollars is the founder and executive director of the Chippewa Valley Writers Guild. He lives a simple existence with his wife, their children, and their dog.