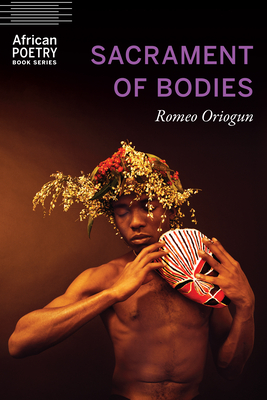 Sacrament of Bodies (African Poetry Book )
Paperback

* Individual store prices may vary.
Description
In this groundbreaking collection of poems, Sacrament of Bodies, Romeo Oriogun fearlessly interrogates how a queer man in Nigeria can heal in a society where everything is designed to prevent such restoration. With honesty, precision, tenderness of detail, and a light touch, Oriogun explores grief and how the body finds survival through migration.
 
Praise For Sacrament of Bodies (African Poetry Book )…
"Sacrament of Bodies is a very special book. But why? Because Romeo Oriogun has developed a style that is both personal and mythical, because these poems are sensual and spiritual at once, because they give us both a story and a song, a shout and a whisper. 'I have learnt to love every broken thing,' Oriogun tells us. I find that Oriogun's tension between the high style of a sermon and the earthiness of love songs gives these poems a particularly memorable touch. It is memorable also because it is able to give us a journey (through time, through forgetting, through elegy, through exile) that is both a story of a real man in real time and an incantation, a speaking in tongues. But it is his music that finally sways me, it's music that lifts it all, that makes out of truth-telling a song. The music works here because Oriogun is a master of incantation: 'I danced,' he tells us, 'as if I knew every song had a door.' Indeed. I love this beautiful, heart-wrenching, passionate book."—Ilya Kaminsky, author of Deaf Republic
 
— Ilya Kaminsky
"Sacrament of Bodies is a gorgeous book filled with fiery pain and ecstatic desire. These poems are spacious enough to hold all the contradictions: the violence waged against gay people and the body's insistence on love, the tenderness of flesh and the carnage of war, remembering and forgetting, silence and song. Romeo Oriogun has wrought complex, elegant poems that wrench beauty from all that would kill us. As he writes, 'I worship the day because it survived the night.' I admire these poems immensely. They make me stronger."—Ellen Bass, author of Indigo and Like a Beggar
 
— Ellen Bass
University of Nebraska Press, 9781496219640, 78pp.
Publication Date: March 1, 2020
About the Author
Romeo Oriogun was born in Lagos, Nigeria. He is the author of the chapbooks Burnt Men, The Origin of Butterflies, and Museum of Silence. He was the winner of the 2017 Brunel International African Prize and has received fellowships from Harvard University's English Department, the IIE-Artist Protection Fund, Oregon Institute for Creative Research, and the Hutchins Institute of African and African American Research. He lives in Iowa, where he is an MFA candidate for poetry at the Iowa Writers' Workshop.