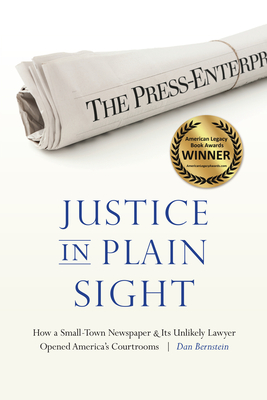 Justice in Plain Sight
How a Small-Town Newspaper and Its Unlikely Lawyer Opened America's Courtrooms
Paperback

* Individual store prices may vary.
Other Editions of This Title:
Hardcover (1/1/2019)
Other (1/1/2019)
Description
Justice in Plain Sight is the story of a hometown newspaper in Riverside, California, that set out to do its job: tell readers about shocking crimes in their own backyard. But when judges slammed the courtroom door on the public, including the press, it became impossible to tell the whole story. Pinning its hopes on business lawyer Jim Ward, whom Press-Enterprise editor Tim Hays had come to know and trust, the newspaper took two cases to the U.S. Supreme Court in the 1980s.
              
Hays was convinced that the public—including the press—needed to have these rights and needed to bear witness to justice because healing in the aftermath of horrible crimes could not occur without community catharsis. The newspaper won both cases and established First Amendment rights that significantly broadened public access to the judicial system, including the right for the public to witness jury selection and preliminary hearings.
              
Justice in Plain Sight is a unique story that, for the first time, details two improbable journeys to the Supreme Court in which the stakes were as high as they could possibly be (and still are): the public's trust in its own government.
 
Praise For Justice in Plain Sight: How a Small-Town Newspaper and Its Unlikely Lawyer Opened America's Courtrooms…
"The considerable research, numerous interviews, and primary documentation combine to make Justice in Plain Sight a comprehensive look at two landmark cases and the underdog newspaper that ensured that the justice process can't operate in secret."—Jeff Fleischer, Foreword Reviews
— Jeff Fleischer
"Whether you're a lawyer or a history buff, you will enjoy reading about how an unlikely small-town Riverside newspaper and lawyers successfully fought to open public access to criminal proceedings in the United States."—Theresa Han Savage, Riverside Lawyer
— Theresa Han Savage
"Justice in Plain Sight provides a timely and intriguing glimpse at the operation of an earlier Supreme Court, which was functioning in the aftermath of the political and social upheaval of the 1970s."—Kim Himstreet, Bend Bulletin
— Kim Himstreet
"It is one thing for an attorney litigating an access case today to know and memorize the Press-Enterprise test. But as Bernstein's book reveals, it is a far more interesting thing to understand the backstory about how that rule evolved and to appreciate the hard-fought efforts of so many people that went into it."—Clay Calvert, Criminal Law and Criminal Justice Books
— Clay Calvert
"Dan Bernstein's new book disproves two stereotypes about history: First, that it's made only by the famous, and second, that it's boring. This is a tale of small-town heroes, newspaper professionals, and lawyers. . . . In Dan's capable hands, it's smart, funny, and above all, enlightening."—George Rodrigue, two-time winner of the Pulitzer Prize and president and editor of the Cleveland Plain Dealer
— George Rodrigue
"I simply loved Justice in Plain Sight. It is like a fairy tale with a landscape populated by now-extinct beasts. . . . For those who want to understand what journalism can mean to a community, here's a well-told story of a very good newspaper."—Donald E. Graham, former publisher of the Washington Post
— Donald E. Graham
"As courts and the media today face political criticism and threats, Bernstein's story of the paper's landmark victories is a timely reminder of how crucial public access is to the integrity of our judicial system."—Marcia Coyle, chief Washington correspondent of the National Law Journal and author of The Roberts Court: The Struggle for the Constitution
— Marcia Coyle
"A suspenseful, true-life legal page-turner about honest men and women standing up for freedom. A thoroughly compelling and engaging read."—Jonathan Eig, New York Times best-selling author of Ali: A Life
— Jonathan Eig
"The doors of America's courtrooms are open today because one small newspaper in California refused to let justice take place in secret. Justice in Plain Sight is a long-overdue look at the legal fight that changed the history of the First Amendment."—David E. McCraw, vice president and deputy general counsel, the New York Times Company
— David E. McCraw
"This book, which tells the highly interesting story behind two Supreme Court precedents, has it all: heinous crimes, protective judges, dogged journalists, skilled local lawyers, captious Supreme Court justices, and a very fortunate public that, thanks to the Press-Enterprise, secured a First Amendment right to attend jury selection and preliminary hearings."—James T. Hamilton, Hearst Professor of Communication at Stanford University
— James T. Hamilton
"Dan Bernstein has written a wonderful account of two landmark Supreme Court cases that established the right of the press and the public to attend key phases of criminal court proceedings. Meticulously researched and beautifully written, Bernstein's book tells the fascinating story behind these key First Amendment decisions."—Erwin Chemerinsky, dean and Jesse H. Choper Distinguished Professor of Law at the University of California, Berkeley School of Law
— Erwin Chemerinsky
"During the 1970s and 1980s, the U.S. Supreme Court made public access to criminal court proceedings a constitutional right. . . . Justice in Plain Sight documents the struggle to achieve those rights and adds to the public's understanding of what makes the American justice system the most transparent and trusted system in the world."—Lucy Dalglish, dean of Phillip Merrill College of Journalism at the University of Maryland
— Lucy Dalglish
"It is hard to believe that thirty years ago, courts closed their doors to the press in criminal court proceedings. Dan Bernstein, armed with local knowledge and extensive research, weaves a gripping narrative of how that changed. His story is filled with high constitutional principles, colorful characters, and frequent peeks behind the scenes at the Supreme Court of the United States, where the legal landscape changed thanks to the determination of a small local newspaper publisher."—Dennis J. Hutchinson, William Rainey Harper Professor in the College and senior lecturer in law at the University of Chicago and author of The Man Who Once Was Whizzer White
— Dennis J. Hutchinson
"It is meticulously researched, engagingly written, and tells an extraordinarily important and relevant story."—Kathleen Cairns, former reporter and editor for Knight-Ridder and author of The Case of Rose Bird: Gender, Politics, and the California Courts
— Kathleen Cairns
University of Nebraska Press, 9781496219794, 282pp.
Publication Date: August 1, 2020
About the Author
Dan Bernstein is a retired reporter, editorial writer, and general interest columnist for the Press-Enterprise newspaper in Riverside, California. He has won various state and national awards for column writing and is the author of two children's books.