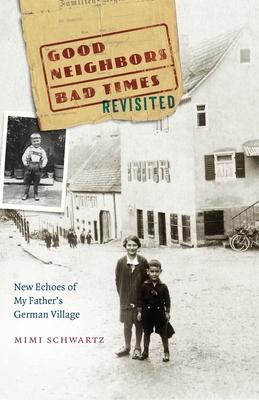 Good Neighbors, Bad Times Revisited
New Echoes of My Father's German Village
Paperback

* Individual store prices may vary.
Description
Mimi Schwartz's father was born Jewish in a tiny German village thirty years before the advent of Hitler when, as he'd tell her, "We all got along." In her original memoir, Good Neighbors, Bad Times, Schwartz explored how human decency fared among Christian and Jewish neighbors before, during, and after Nazi times. Ten years after its publication, a letter arrived from a man named Max Sayer in South Australia. Sayer, it turns out, grew up Catholic in the village during the Third Reich and in 1937 moved into an abandoned Jewish home five houses away from where the family of Schwartz's father had lived for generations before fleeing to America a few months earlier. The two families had never met.

Sayer wrote an unpublished memoir about his childhood memories and in Schwartz's new edition, Good Neighbors, Bad Times Revisited, the two memoirs talk to each other. Weaving excerpts from Sayer's memoir and from a yearlong correspondence with him into her book, Schwartz revisits village history from a new perspective, deepening our understanding of decency and demonization. Given the rise of xenophobia, white supremacy, and anti-Semitism in the world today, this exploration seems more urgent than ever.
Praise For Good Neighbors, Bad Times Revisited: New Echoes of My Father's German Village…
"Exceptionally well written, organized and presented, Good Neighbors, Bad Times Revisited: New Echoes of My Father's German Village is an inherently fascinating and exceptionally informative blend of memoir and history."—Michael Dunford, Midwest Book Review

"In this new edition Mimi Schwartz brings us back to her father's ancestral village of Rexingen in the German Black Forest to show us that, generations later, it still has much to teach us about decency then and now."—Frank Mecklenburg, director of research and chief archivist of the Leo Baeck Institute

"Even if you have read Good Neighbors, Bad Times before, you should read it again. In this second edition, Schwartz's scrupulously researched, humane, and multivoiced account of a German village where Jews and Gentiles 'all got along,' according to [her] father, has been profoundly enriched. . . . The meaning of 'neighbor' gains an utterly new dimension."—Alicia Ostriker, poet laureate of New York State

"Mimi Schwartz reminds us how close we are (in time, in danger, in sentiment) to the horrific past, but that, even then, individual stories from everyday people show us grace and goodness and generosity despite the suffering."—Patrick Madden, author of Disparates

"With the two perspectives of Sayer and Schwartz you are able to see corroborating and contrasting points of view. By putting them together they showcase a deeper understanding of the village of this pivotal time. . . . Schwartz is again able to craft a narrative in a way that updates the idea of memoirs and how they can be used to educate readers."—thenerdygirlexpress.com
University of Nebraska Press, 9781496221209, 318pp.
Publication Date: March 1, 2021
About the Author
Mimi Schwartz is professor emerita in the writing program at Stockton University. She is the award-winning author of numerous books, including Thoughts from a Queen-Sized Bed (Nebraska, 2003) and When History Is Personal (Nebraska, 2018), and is the coauthor of Writing True: The Art and Craft of Creative Nonfiction. For more information about the author, visit mimischwartz.net.