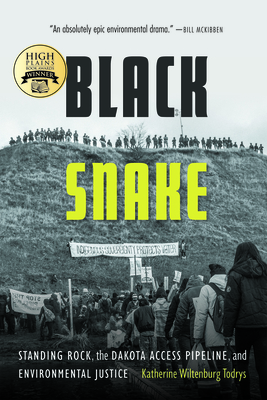 Black Snake
Standing Rock, the Dakota Access Pipeline, and Environmental Justice
Paperback

* Individual store prices may vary.
Description
The controversial Dakota Access Pipeline (DAPL) made headlines around the world in 2016. Supporters called the pipeline key to safely transporting American oil from the Bakken oil fields of the northern plains to markets nationwide, essential to both national security and prosperity. Native activists named it the "black snake," referring to an ancient prophecy about a terrible snake that would one day devour the earth. Activists rallied near the Standing Rock Reservation in North Dakota for months in opposition to DAPL, winning an unprecedented but temporary victory before the federal government ultimately permitted the pipeline. Oil began flowing on June 1, 2017.

The water protector camps drew global support and united more than three hundred tribes in perhaps the largest Native alliance in U.S. history. While it faced violent opposition, the peaceful movement against DAPL has become one of the most crucial human rights movements of our time.

Black Snake is the story of four leaders—LaDonna Allard, Jasilyn Charger, Lisa DeVille, and Kandi White—and their fight against the pipeline. It is the story of Native nations combating environmental injustice and longtime discrimination and rebuilding their communities. It is the story of a new generation of environmental activists, galvanized at Standing Rock, becoming the protectors of America's natural resources.
Praise For Black Snake: Standing Rock, the Dakota Access Pipeline, and Environmental Justice…
"An important work of environmental and legal reportage on a contest that will likely continue for years."—Kirkus Reviews

"In Black Snake, Todrys blends wide-ranging research with solid on-the-ground reporting to tell a compelling and important story—one whose full impact is yet to be felt."—David Conrads, Christian Science Monitor

"All Americans who care about the fate of Native Americans and about clean water, clean air, and a non-toxic earth will find Todrys's book inspiring."—Jonah Raskin, New York Journal of Books

"It can be easy to forget, after all that's happened since, that the demonstrations against DAPL at Standing Rock were less than five years ago. Human rights lawyer Katherine Wiltenburg Todrys takes an on-the-ground view of the events, building this study around interviews with four Native leaders of the activist movement. It's a timely reminder of what resources still need protecting and the next generation of young people putting their lives on the line to do so."—Chicago Review of Books

"Based on the stories and insights from LaDonna Allard, Jasilyn Charger, Lisa DeVille and Kandi White, Todrys paints a vivid portrait of daily life on the reservations and the protests against the broader backdrop of our nation's history exploiting Native peoples. . . . Her book gives a voice to those who have long been silenced or misunderstood as they fight not just for their lands but for the health of everyone who lives in this nation."—New City Lit

"In Black Snake, Katherine Wiltenburg Todrys offers Americans of all races, classes, cultures, creeds, ethnic groups and genders the opportunity to look in the mirror and to see a reflection of where we have been as a nation and where we are going if we are to escape the poison of fossil fuel."—Jonah Raskin, Counter Punch

"I'm so happy this book exists—it tells much of the backstory behind an absolutely epic environmental drama, and it highlights some of the remarkable women who led the fight. If you didn't get a chance to join the encampment at Standing Rock, this account will put you there!"—Bill McKibben, author of Falter: Has the Human Game Begun to Play Itself Out?

"Black Snake draws on firsthand interviews to tell an important history from the perspective of those who lived it. Thank you for this book."—Madonna Thunder Hawk, Lakota civil rights activist

"Todrys tells the story of the people in this fight, of their heartening advances and demoralizing setbacks, in a textured, personal way that brings to life their mistreatment and their inspiring response. This book is a dramatic illustration of how to stand up to powerful interests that are long used to simply casting aside the people in their way."—Kenneth Roth, executive director of Human Rights Watch

"Black Snake is a necessary book, something that Indigenous history needs right now; it is an absorbing story of Native American resilience, protest, and agency. It is a book that should be on reading lists across the United States and beyond."—Pekka Hamalainen, author of Lakota America: A New History of Indigenous Power
Bison Books, 9781496222664, 352pp.
Publication Date: June 1, 2021
About the Author
Katherine Wiltenburg Todrys is a human rights lawyer and former researcher at Human Rights Watch. She specializes in health and human rights issues.