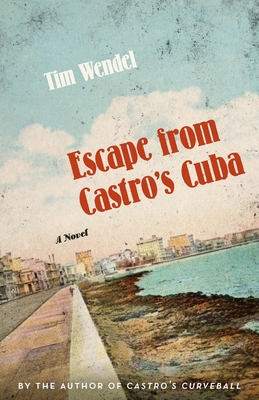 Escape from Castro's Cuba
A Novel
Paperback

* Individual store prices may vary.
Description
2021 Professional Achievement Award, Johns Hopkins University faculty

In this visionary sequel to Castro's Curveball, the former Washington Senators Minor League catcher has returned to Havana with a small role in a movie being filmed on location. Billy Bryan soon realizes that this place and his past remain as star-crossed as when he played winter ball in the Cuban capital decades before.

Against his better judgment, Billy becomes entangled in a scheme to spirit a top baseball prospect off the island. This pits him against his old friend Fidel Castro. Despite being in his final days, the dictator remains a dangerous adversary, as does the Cuban sports machine and the Mexican crime syndicates that now direct baseball talent toward the U.S. Major Leagues.

In Escape from Castro's Cuba, Billy must once again navigate the crosscurrents of the so-called City of Columns: a place where the sunsets from the Hotel Nacional along the Malecón breakwater are as beautiful as ever, but where the alleyways in Old Havana still fan out, crooked and broken, like an old catcher's fingers.
 
Praise For Escape from Castro's Cuba: A Novel…
"Wendel has hit this book—his 14th—out of the park. . . . You don't have to be a major-league fan to fully immerse yourself in Wendel's story. . . . A story of payback . . . set against the backdrop of a post-Castro Havana."—Cathy Alter, Washington Independent Review of Books

"Few know Cuba and its national pastime of béisbol better than Tim Wendel. Fewer still write about it with such honesty, grace, and insight."—Luis Tiant, former Major League pitcher and author of Son of Havana

"Cuba, baseball, and a compelling story that moves with the speed of a perfect fastball. Escape from Castro's Cuba is another must-read sports novel from the wonderful Tim Wendel."—Daniel Silva, best-selling author of The Order

"In baseball, there is no higher praise than to be called 'a baseball man.' He's the guy who scuffles, who hangs on, and hangs in; who rides the pines and counts it a blessing; who takes pride in the dings and dents in his catcher's hands; who scouts the territory mined out of talent and recognizes the gem on a distant diamond from one quick flick of a wrist. In Billy Bryan, Tim Wendel has created the perfect baseball man. And in this novelistic return to the world of Cuban baseball and intrigue, Wendel has given Billy a perfect second act. It is an exquisite portrait of an aging baseball man of conscience and character who refuses to quit on the people and the game he loves. Thank you, Tim Wendel, for the loveliness of Escape from Castro's Cuba."—Jane Leavy, author of The Big Fella: Babe Ruth and the World He Created

"I don't know how a book becomes a movie, but I think this story would make a terrific one. Lots of action and atmosphere, wonderful characters, and beautiful settings."—Sisterhood of Books
University of Nebraska Press, 9781496222923, 270pp.
Publication Date: March 1, 2021
About the Author
Tim Wendel is the acclaimed author of fourteen books, including Castro's Curveball (Bison Books, 2006) and Summer of '68: The Season That Changed Baseball—and America—Forever. He is a founding editor of USA Today Baseball Weekly and a writer in residence at Johns Hopkins University. His stories and columns have appeared in the New York Times, the Washington Post, National Geographic, Psychology Today, and Esquire. Visit his website www.timwendel.com.