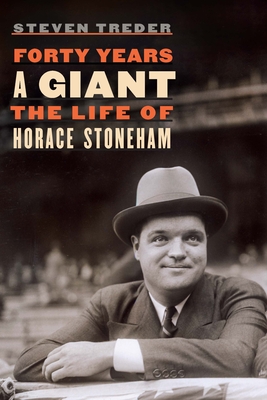 Forty Years a Giant
The Life of Horace Stoneham
Hardcover

* Individual store prices may vary.
Description
2022 SABR Seymour Medal
Finalist for the 2021 CASEY Award for Best Baseball Book of the Year

When New York Giants owner Charles A. Stoneham came home one night in 1918 and told his teenage son, Horace, "Horrie, I bought you a ballclub," he set in motion a family legacy. Horace Stoneham would become one of baseball's greatest figures, an owner who played an essential role in integrating the game, and who was a major force in making our pastime truly national by bringing Major League Baseball to the West Coast.

Horace Stoneham began his tenure with the Giants in 1924, learning all sides of the operation until he moved into the front office. In 1936, when his father died of kidney disease, Horace assumed control of the Giants at age thirty-two, becoming one of the youngest owners in baseball history.

Stoneham played a pivotal role in not just his team's history but the game itself. In the mid-1940s when the Pacific Coast League sought to gain Major League status, few but Stoneham and Branch Rickey took it seriously, and twelve years later the Giants and Dodgers were the first two teams to relocate west. Stoneham signed former Negro Leaguers Monte Irvin and Hank Thompson, making the Giants the second National League franchise to racially integrate. In the late 1940s, the Giants hired their first Spanish-speaking scout and soon became the leading team in developing Latin American players.

Stoneham was shy and self-effacing and avoided the spotlight. His relationships with players were almost always strong, yet for all his leadership skills and baseball acumen, sustained success eluded most of his teams. In forty seasons his Giants won just five National League pennants and only one World Series.

The Stoneham family business struggled, and the team was forced to sell off its beloved stars, first Willie Mays, then Willie McCovey, and finally Juan Marichal. Then Stoneham had no choice but to sell the club in 1975. While his tenure came to an unfortunate end, he is heralded as a pioneer and leader whose story tells much of baseball history from the 1930s through the 1970s.
Praise For Forty Years a Giant: The Life of Horace Stoneham…
"Steve Treder makes an important contribution to the field of baseball history with Forty Years a Giant. Readers will soak up the fascinating story of Horace Stoneham, who, at long last, receives the attention he so richly deserves."—Jason Cannon, NINE: A Journal of Baseball History and Culture

"No one better understands the Giants of the mid-twentieth century than Steve Treder, so I knew this was a perfect pairing of author and subject. I was not disappointed. This is an absorbing look at one of baseball's most fascinating teams."—Mark Armour, author of Joe Cronin: A Life in Baseball

"Masterful. . . . This richly contextualized book rescues Stoneham from the sidelines of New York City's baseball world and places him alongside Walter O'Malley in the story of the sport's success in California, where he belongs. It is a delight."—Roberta Newman, author of Here's the Pitch: The Amazing, True, New, and Improved Story of Baseball and Advertising

"Horace Stoneham [was] a true baseball pioneer. . . . Giants fans especially will enjoy both Treder's thorough narrative of the Stoneham years in New York and in San Francisco—the players, the games, the seasons—and his extensive and balanced portrait of the man most responsible for that history."—Robert F. Garratt, author of Home Team: The Turbulent History of the San Francisco Giants

"Horace Stoneham may be one of the most underappreciated baseball executives of the twentieth century. Thanks to Steve Treder we now have a book that recognizes his significance and reflects the Giants' prominence in many of the fascinating and consequential moments of more than five decades of baseball history."—Daniel R. Levitt, author of Ed Barrow: The Bulldog Who Built the Yankees' First Dynasty

"Sometimes you just don't know what you were missing until you've got it. More than players, more than coaches, more than anyone else really, it's always been the owners who determine the fates of baseball franchises. Which makes it all the more surprising that Steve Treder's outstanding book is the first comprehensive biography of Horace Stoneham, who owned one of baseball's titanic teams through forty years of revolutionary change."—Rob Neyer, author of Casey Award–winning Power Ball: Anatomy of a Modern Baseball Game
University of Nebraska Press, 9781496224194, 536pp.
Publication Date: June 1, 2021
About the Author
Steven Treder's work has been published in NINE, The Hardball Times Baseball Annual, and The National Pastime. He wrote a weekly column on the topic of baseball history for the Hardball Times from 2004 to 2013.