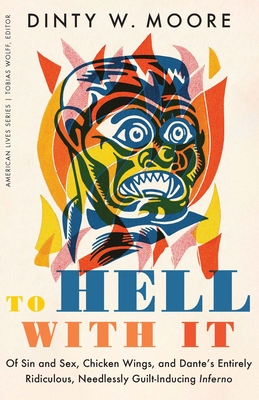 To Hell with It
Of Sin and Sex, Chicken Wings, and Dante's Entirely Ridiculous, Needlessly Guilt-Inducing Inferno (American Lives )
Paperback

* Individual store prices may vary.
Description
Dante published his ambitious and unusual poem, Divine Comedy, more than seven hundred years ago. In the ensuing centuries countless retellings, innumerable adaptations, tens of thousands of fiery sermons from Catholic bishops and Baptist preachers, all those New Yorker cartoons, and masterpieces of European art have afforded Dante's fictional apparition of hell unending attention and credibility. Dinty W. Moore did not buy in.

Moore started questioning religion at a young age, quizzing the nuns in his Catholic school, and has been questioning it ever since. Yet after years of Catholic school, religious guilt, and persistent cultural conditioning, Moore still can't shake the feelings of inadequacy, and asks: What would the world be like if eternal damnation was not hanging constantly over our sheepish heads? Why do we persist in believing a myth that merely makes us miserable? In To Hell with It, Moore reflects on and pokes fun at the over-seriousness of religion in various texts, combining narratives of his everyday life, reflections on his childhood, and religion's influence on contemporary culture and society.
 
Praise For To Hell with It: Of Sin and Sex, Chicken Wings, and Dante's Entirely Ridiculous, Needlessly Guilt-Inducing Inferno (American Lives )…
"Unstrap your backpack of guilt and sit down for a laugh."—Kirkus Reviews

"If you've even wondered why the hell we came up with hell, this is the book for you. Dinty W. Moore knows of hell well, and in all sorts of ways."—George Yatchisin, California Review of Books

"It's probably safe to say don't read this book if you're heavy into orthodoxy and prefer to understand with certainty how the world works. But if like most of the contemporary world you're struggling to understand our collective Christian history and indoctrination more broadly, or even just how some things are more grey than black and white, you'll enjoy the descent into Dinty's mind. To hell with anyone else that tells you differently."—Emily Dillon, Hippocampus Magazine

"In To Hell With It: On Sin and Sex, Chicken Wings, and Dante's Entirely Ridiculous, Needlessly Guilt-Inducing Inferno, Moore sketches, howls, gorges, and guffaws his way through internal and external landscapes of guilt and excess to present an everyman's critique of Dante's Inferno. He both laments and lampoons the Inferno and its death grip on our collective and individual consciences. The result is part memoir, part travelogue, part journal left under the bed of a vacated freshman dorm at a Catholic university."—David Gottlieb, Another Chicago Magazine

"Moore's humor, combining intellect with pop culture knowledge, shines throughout the book."—Rev. Elizabeth Felicetti, Good River Review

"In Italy they're celebrating seven centuries of Dante . . . but I doubt anyone there has whipped up a carnival so wild as Dinty Moore's."—John Domini, Vol. 1 Brooklyn

"Dinty W Moore might say, 'to hell with it!' But he doesn't mean it. He's too good for that, and too funny—Kurt Vonnegut funny—and even with his head in a bucket of county fair chicken, too wise to tempt the fates. To Hell with It is a madcap, deep, hopeful, absurd, learned, solemn, silly, and somehow redeeming look at the hell we make for ourselves, the hell the world offers, and the heaven to be found if only we look in the heart of each of our hearts, plus cartoons!"—Bill Roorbach, author of Life among Giants

"I don't dare say that Dinty's Inferno is better than Dante's. But it is a hell of a lot funnier. It's so funny that you don't realize how smart it is until it's too late: you've suffered Deep Thoughts. You realize you've been not only entertained but enlightened. Okay, okay, to hell with it: Dinty's is better."—Beth Ann Fennelly, author of Heating and Cooling: 52 Micro-Memoirs

"Moore's mashup of classic texts and pop culture, the personal and the spiritual, is creative nonfiction as its quintessential best. To Hell with It is a fascinating, humorous, and compelling cosmology to revel to. This is stand-up theology at its finest."—Sue William Silverman, author of How to Survive Death and Other Inconveniences
University of Nebraska Press, 9781496224606, 180pp.
Publication Date: March 1, 2021
About the Author
Dinty W. Moore, a former zookeeper, modern dancer, professor, and failed altar boy has authored or edited numerous books, including Dear Mister Essay Writer Guy: Advice and Confessions on Writing, Love, and Cannibals and Between Panic and Desire (Bison Books, 2010).