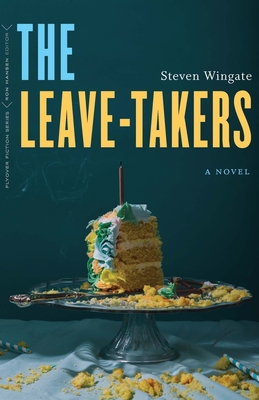 The Leave-Takers
A Novel (Flyover Fiction)
Paperback

* Individual store prices may vary.
Description
Four years ago Jacob Nassedrine from Boston and Laynie Jackman from Los Angeles came within an inch of getting married before things blew apart. They never expected that fate would hurl them back together in a windblown, isolated house on the plains of South Dakota, but that's where they end up fighting for the future of their relationship—and for their own emotional survival—amid a minefield of ghosts.

After suffering the loss of both their families, they must unite to face the great crises of their lives: grief and guilt over their dead loved ones, low-level but persistent addictions to prescription drugs, the specter of familial violence, and recurrent miscarriages. Together they battle their way through the wilderness of their demons to forge sustainable identities that allow them to create a family.

The Leave-Takers is a journey through personal darkness to mutually shared light, set against a starkly beautiful backdrop that leaves nowhere to hide.
 
Praise For The Leave-Takers: A Novel (Flyover Fiction)…
"This is overwhelmingly a love story, and a surprisingly sweet one."—Pamela Miller, (Minneapolis) Star Tribune

"The Leave-Takers is a book to be savored, a novel you will dwell in during the moments you are away from it, suspended in its incantations and contemplations."—Chris Harding Thornton, Colorado Review
 

"The Leave-Takers fairly crackles with prose that strings sharp notes and breathtaking lyricism into a finely wrought tale of family struggle for survival on a hard land. These characters take no prisoners, give as good as they get, and never let go of the reader's emotions or each other. Wingate has written a love song to the Dakota plains and every dream you ever had and lost and rebuilt again and again. A novel that demands to be read and savored many times over!"—Jonis Agee, author of The Bones of Paradise

"It is difficult to write a contemporary novel that offers hope while avoiding sentimentality. Steven Wingate's raw and compassionate The Leave-Takers does precisely this. It is a novel that explores how, amid so many blunting forces of violence and despair, we might stay sensitive to life and open to the future. The novel shimmers with the regenerative possibilities of family and creativity. This is a novel about woundedness but also about the rituals that allow us to free ourselves from the past and find home and healing right where we are."—Kent Meyers, author of The Work of Wolves

"Steven Wingate gives us beautifully rendered landscapes, at once expansive and intimate, filled with lively, compelling characters—both alive and dead!—upended by the twists and turns of life. A great ride through the terrain of loss, desire, and unbreakable connection."—Paula Saunders, author of The Distance Home

"Set against the vast, intimidating landscape of South Dakota, The Leave-Takers is a harrowing romance, a powerful story about addiction, perseverance, and ultimately the redemptive, complicated, and fraught power of love."—Chip Cheek, author of Cape May
University of Nebraska Press, 9781496225023, 336pp.
Publication Date: March 1, 2021
About the Author
Steven Wingate is the author of several books, including Of Fathers and Fire (Nebraska, 2019), the award-winning Wifeshopping, and Thirty-One Octets: Incantations and Meditations. He is an associate professor of English at South Dakota State University. For more information about the author, visit stevenwingate.com/about.