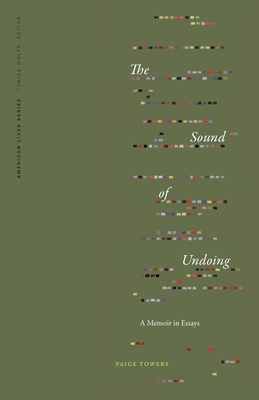 The Sound of Undoing
A Memoir in Essays (American Lives )
Paperback

* Individual store prices may vary.
Description
A memoir in essays, The Sound of Undoing deconstructs the way sound has overwhelmingly shaped Paige Towers's life. Each essay focuses on a different sound, some perceptible—like the sound of a loon call or gunshot—and others abstract—like the sound of awakening. Given a hypersensitivity to noise from which she has both suffered and benefited since childhood, Towers uses these sounds as a starting point for making sense of past events. She reflects on the estrangement of a beloved sister, sexual abuse and assault, and the link between mental illness and noise in her family, as well as nature, religion, violence, and other themes. Experimental in form and provocative in content, The Sound of Undoing also makes use of research on silence, nature and noise pollution, listening, sound art, autonomous sensory meridian response, and the acoustic environment in general. By exploring memories and feelings triggered by certain noises, this lyrical meditation untangles a life infused with meaning through sound.
Praise For The Sound of Undoing: A Memoir in Essays (American Lives )…
"This book gifted me a deeper awareness of noise—its powers to depress or delight, estrange or connect. . . . Part anguished lament, part rapturous ode, Paige Towers has given us a portrait of overwhelming sensation."—Gabrielle Bates, author of Judas Goat

"The Sound of Undoing is for any person who's been told they are too sensitive to the burdens of our times. Spanning sister grief, noise exposure, and estrangement from self and society, Paige Towers investigates the echoing possibilities—attuned to both joy and trauma—of everyday sounds. Celebrating the minuscule and the immense in equal measure, this memoir is a real contribution to our understanding of the aural and emotional landscapes of womanhood."—Kristen Millares Young, author of Subduction

"Towers guides us through her discoveries of sound—its presence, absence, and lyrical implications. But it always comes back to love. This book explores what it means to perceive the world in surprising ways by showing us how we can understand what tethers us to our relationships and hold what we cannot see to the light with faith."—Su Cho, author of The Symmetry of Fish
University of Nebraska Press, 9781496232878, 200pp.
Publication Date: March 1, 2023
About the Author
Paige Towers is a freelance writer. Her work has appeared in Hobart, Washington Post, The Guardian, Harvard Review, McSweeney's, and many other publications.