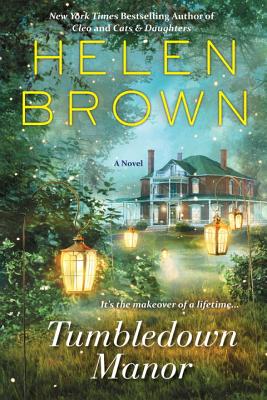 Tumbledown Manor (Paperback)
Kensington, 9781496701480, 320pp.
Publication Date: April 26, 2016
* Individual store prices may vary.
Description
From New York Times bestselling author Helen Brown comes a witty, uplifting novel about a woman who discovers that it's never too late to build the home--and the life--you've always longed for…

The windows rattle. The roof leaks. Every surface cries out to be stripped, painted, or polished. But for writer Lisa Trumperton, the dilapidated manor house that once belonged to her great-grandfather is far more than the sum of its battered parts. It's the chance for a new start on her own terms. The fact that it's in the Melbourne countryside of her Australian homeland, far from the deceitful ex-husband she just left behind in New York…well, that's a bonus.

Lisa sets to work refurbishing Trumperton Manor, assisted by her son, his friends, and a "Gray Army" of retired handymen. But it's not just her ancestral home that's being transformed. As she trades her chic Manhattan clothes for jeans and work boots, Lisa is changing and fortifying her relationships with her family and her sense of self. There are floods, fires, and catastrophes, but there are new allies too, including a one-eyed cat, a stubborn cockatoo, and a rugged landscaper with an irresistible grin. Piece by piece, the house is pushing Lisa beyond her old limits, daring her to embrace something bigger, braver, and more rewarding than she ever dreamed.

Praise for Helen Brown and Her Books

"A buoyant tale, heartfelt and open." --Booklist on Cleo

"Brown writes eloquently about the bonds between women … a moving story of love and identity." --Kirkus Reviews on Cats & Daughters
About the Author
Helen Brown was born and brought up in New Zealand, where she first worked as a journalist, TV presenter, and scriptwriter. A multi-award-winning columnist, Helen now lives in Melbourne, Australia, with her family and feline, the internationally beloved Jonah. Cleo rose to the top of the bestseller lists in its first weeks in the United States, United Kingdom, New Zealand, France, and Australia, and has been translated into more than sixteen languages. Cats & Daughters further increased her audience with publications in six countries. Tumbledown Manor, already a bestseller in Australia/New Zealand and in Germany, shows her storytelling talents at their best.

You can visit Helen Brown at www.helenbrown.au and follow her on Facebook.