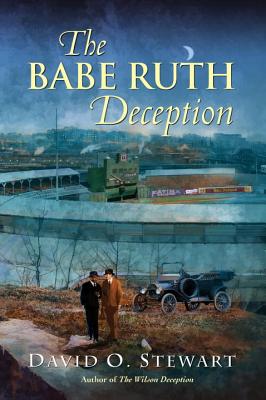 The Babe Ruth Deception (A Fraser and Cook Mystery #3) (Hardcover)
Kensington, 9781496702005, 304pp.
Publication Date: September 27, 2016
* Individual store prices may vary.
Description
As the Roaring Twenties get under way, corruption seems everywhere--from the bootleggers flouting Prohibition to the cherished heroes of the American Pastime now tarnished by scandal. Swept up in the maelstrom are Dr. Jamie Fraser and Speed Cook...

Babe Ruth, the Sultan of Swat, is having a record-breaking season in his first year as a New York Yankee. In 1920, he will hit more home runs than any other team in the American League. Larger than life on the ball field and off, Ruth is about to discover what the Chicago White Sox players accused of throwing the 1919 World Series are learning--baseball heroes are not invulnerable to scandal. With suspicion in the air, Ruth's 1918 World Series win for the Boston Red Sox is now being questioned. Under scrutiny by the new baseball commissioner and enmeshed with gambling kingpin Arnold Rothstein, Ruth turns for help to Speed Cook--a former professional ballplayer himself before the game was segregated and now a promoter of Negro baseball--who's familiar with the dirty underside of the sport.

Cook in turn enlists the help of Dr. Jamie Fraser, whose wife Eliza is coproducing a silent film starring the Yankee outfielder. Restraint does not come easily to the reckless Ruth, but the Frasers try to keep him in line while Cook digs around.

As all this plays out, Cook's son Joshua and Fraser's daughter Violet are brought together by a shocking tragedy. But an interracial relationship in 1920 feels as dangerous as a public scandal--even more so because Joshua is heavily involved in bootlegging. Trying to protect Ruth and their own children, Fraser and Cook find themselves playing a dangerous game.

Once again masterfully blending fact and fiction, David O. Stewart delivers a nail-biting historical mystery that captures an era unlike any America has seen before or since in all its moral complexity and dizzying excitement.

Praise for David O. Stewart's Historical Mysteries:

"Terrific…The book's fun part is its name game, as familiar historic figures mingle with made-up characters…The storyline's dangling threads are braided into a tight, clever finish, worthy of a vintage spy caper or 007's own playbook. Now which president will Stewart select for his next escapade" --The Washington Post on The Wilson Deception

"This fast-paced and smartly researched first novel is astonishingly good, complete with sharp and colorful characters, nicely drawn by Stewart, who in his other self is a lawyer-turned-historian." --Bloomberg News on The Lincoln Deception

"Dense with detail and intrigue, making a hearty read for conspiracy addicts." --Library Journalon The Lincoln Deception

"Stewart deftly depicts the mood of an era and the colorful figures who shaped it." --Publishers Weekly on The Wilson Deception
About the Author
David O. Stewart is the author of The Wilson Deception and The Lincoln Deception, as well as several works of history, most recently Madison's Gift:  Five Partnerships That Built America, which have been awarded the Washington Writing Award and the Society of the Cincinnati History Prize. He lives in Maryland and his website is at www.davidostewart.com.
Praise For The Babe Ruth Deception (A Fraser and Cook Mystery #3)…
"Having mastered the craft of writing novels that feature Abraham Lincoln and Woodrow Wilson, David O. Stewart has now chosen someone who is perfect for the genre. Babe Ruth was as mythic as a person gets, and the author has surrounded The Babe with a Prohibition cast of bootleggers, gangsters and thugs, giving us a fine yarn that mixes and matches the grand glories of The National Pastime with the nefarious foibles of human nature." --Frank Deford, Sportswriter and Bestselling Novelist

"This is so much more than a baseball book. There's a lot of the Babe, but it's a history book, a mystery book, a complex book that beautifully details an era in America. I loved it!" --Tim Kurkjian, ESPN Baseball Contributor and Author

"[The Babe Ruth Deception] cleverly mixes real-life people and historical events. The problems of the unlikely sleuths will particularly appeal to baseball fans." --Kirkus Reviews

"A rollicking real-life figure leads to a rollicking fictional romp.  The allure of the Babe may bring you into this book; David O. Stewart's lively tale will keep you there." --Kostya Kennedy

"Well-written novels that blend fact and fiction always get my attention, and if it's Babe Ruth and characters from his era, I'm in. David O. Stewart reminds us of why the '20s roared, and how much fun the Babe was. A delight!" --Marty Appel, author of Pinstripe Empire

"David O. Stewart, the master of fictional historic deceptions, has hit one out of the park with The Babe Ruth Deception.  Not only is it most cleverly plotted but gives us a feel for the corrupt and colorful Era of Prohibition when Babe Ruth was at his most beloved despite – or because of – his off-the-field flaws and excesses." --Paul Dickson author of Leo Durocher – Baseball's Prodigal Son

or
Not Currently Available for Direct Purchase