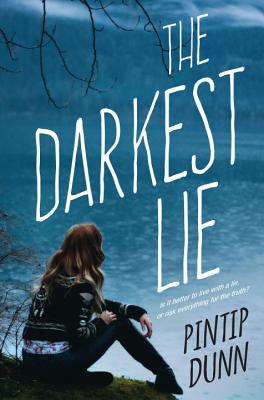 The Darkest Lie (Paperback)
Kensington, 9781496703583, 256pp.
Publication Date: June 28, 2016
* Individual store prices may vary.
Description
Is it better to live with a lie, or risk everything for the truth?

"Heartbreaking and heroic. You won't be able to turn the pages fast enough!" --Romily Bernard, author of the Find Me trilogy

In Pintip Dunn's gripping and timely novel, a young woman whose life unravels in the wake of her mother's alleged suicide sets out to clear her name.

"The mother I knew would never do those things. But maybe I never knew her after all."

Clothes, jokes, coded messages…Cecilia Brooks and her mom shared everything. At least, CeCe thought they did. Six months ago, her mom killed herself after accusations of having sex with a student, and CeCe's been the subject of whispers and taunts ever since. Now, at the start of her high school senior year, between dealing with her grieving, distracted father, and the social nightmare that has become her life, CeCe just wants to fly under the radar. Instead, she's volunteering at the school's crisis hotline—the same place her mother worked.

As she counsels troubled strangers, CeCe's lingering suspicions about her mom's death resurface. With the help of Sam, a new student and newspaper intern, she starts to piece together fragmented clues that point to a twisted secret at the heart of her community. Soon, finding the truth isn't just a matter of restoring her mother's reputation, it's about saving lives—including CeCe's own…

"A twisty, fast-paced thriller that kept me guessing to the end."—Shannon Grogan, author of From Where I Watch You

"This one will tug your heart and leave you breathless!"--Natalie D. Richards, author of Six Months Later

"A headlong rush into the shadows of secrets that should not be kept."  –Michelle Zink, author of Prophecy of the Sisters

About the Author
When Pintip Dunn's first?grade teacher asked her what she wanted to be when she grew up, she replied, "An author." Although she has pursued other interests over the years, this dream has never wavered. Pintip graduated from Harvard University, with an A.B. in English Literature and Language. She received her J.D. at Yale Law School, where she was an editor of the Yale Law Journal. She now lives in Maryland with her husband and three children. Pintip is a 2012 Golden Heart® finalist and a 2014 double?finalist. She is a member of Romance Writers of America, Washington Romance Writers, YARWA, and The Golden Network. Visit her online at pintipdunn.com, or follow her on Twitter @pintipdunn.
Praise For The Darkest Lie…
"An exhilarating read." —Library Journal

"CeCe's attempts to preserve her mother's reputation keep the story's emotional stakes high." —Publishers Weekly

"Readers' hearts won't stop racing as they make their way through this suspenseful novel, whether the palpitations are caused by a tense scene, a juicy breakthrough in the plot or a bit of dreamy romance. There are no unnecessary details to bog down the plot; every character, event and beautifully written description keeps the story going at a steady pace, and readers never feel as if they're being led to a dead end. Dunn's heartbreaking novel might show a sickening side of humankind, but the end result is a hopefully and moving narrative that will stick with readers." —RT Book Reviews, 4.5 Stars Top Pick

"Dunn manages to take what sounds like another un-of-the-mill teacher-student relationship story and turn it into a dark conspiracy. Mystery fans will race through the pages to find out what really happened the night Tabitha Brooks died. Recommend for fans of other "who do we trust" mysteries, such as the works of Michele Jaffee, Natalie Richards, and Hannah Jayne." —Booklist

"This one will tug your heart and leave you breathless!" —Natalie D. Richards, author of  Six Months Later

"Equally heartbreaking and heroic, CeCe is a character you'll root for. You won't be able to turn the pages fast enough!" —Romily Bernard, author of the FIND ME trilogy

"The Darkest Lie is not only a twisty, fast-paced thriller that kept me guessing to the end, but also the story of a fearless girl struggling to understand the mother she lost, and uncover the secrets around her death that others want to stay hidden." —Shannon Grogan, author of From Where I Watch You

"The Darkest Lie is a headlong rush into the shadows of secrets that should not be kept - and proof that the most dangerous lies of all are the ones we tell ourselves." —Michelle Zink, author of The Prophecy of Sisters
or
Not Currently Available for Direct Purchase