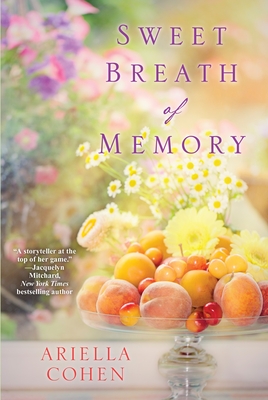 Sweet Breath of Memory
Paperback

* Individual store prices may vary.
Other Editions of This Title:
Hardcover, Large Print (9/21/2016)
Description
"A storyteller at the top of her game." --Jacquelyn Mitchard, New York Times bestselling author

Life is in the telling.

With its tree-lined streets, vibrant downtown and curbside planters of spring bulbs, Amberley, Massachusetts, seems a good place for Cate Saunders to start over. It's been two years since her husband, John, was killed in Iraq and life has been a struggle. Her new job as a caregiver doesn't pay much, but the locals are welcoming. In fact, Cate has barely unpacked before she's drawn--reluctantly at first--into a circle of friends.

There's diner-owner Gaby, who nourishes her customers' spirits as well as their bodies; feisty Beatrice, who kept the town going when its men marched off to WWII; wise-cracking MaryLou, as formidable as Fort Knox but with the same heart of gold; and, Sheila, whose Italian grocery is the soul of the place. As Amberley reveals itself to be a town shaped by war, Cate encounters another kindred spirit--a Holocaust survivor with whom she feels a deep connection. When revelations about John's death threaten Cate's newfound peace of mind, these sisters-in-arms' stories show her an unexpected way forward. And Cate comes to understand that although we suffer loss alone, we heal by sharing our most treasured memories.

"Filled with compassion, humor and honesty, Ariella Cohen's Sweet Breath of Memory is a powerful story of forgiveness. . .Through food and friendship, a community releases its long held secrets, and Cohen provides solace for her characters and her readers." -- Karen Brown, author of The Longings of Wayward Girls

"Ariella Cohen spins a tender yarn about the enduring nature of love, the importance of friendship and the eternal longing for a place to call home. Every page brims with warmth, wisdom and compassion." -- Yona Zeldis McDonough, author of You Were Meant for Me
Kensington, 9781496703705, 336pp.
Publication Date: June 28, 2016
About the Author
Ariella Cohen is a graduate of Barnard College, the Hebrew University and the University of Michigan Law School. Her short fiction appears in A Cup of Comfort for Couples, Heartscapes, and Flashshot. Although she makes her home in New England, her dream self resides in County Mayo, Ireland. Visit the author's website at: www.ariellacohenauthor.wordpress.com.
Cate's memories of John are fluid, shifting in and out of
focus and becoming abraded by time. She questions if
this means her love was somehow flawed. Why do you
think some memories remain crisp, while others blur
and seem to dim?
Cate speaks of memories as a shield against loneliness and despair.
Like armor, they're 'initially so shiny they dazzle and in time acquiring
the patina of use.' Do you agree? Are there particular memories that
have been your armor in life?
How does the life path of Cate mirror that of Miriam Rosen? Can
the guilt Cate feels over John's death be compared with a Holocaust
survivor's guilt?
Gaby does not initially tell her closest friends that she is ill. Knowing
how her parents' death shadows her life, do you think denying herself
the comfort of friendship is a form of self-punishment?
Working as a home care aid, Cate wears the uniform of one valued
more for what her hands can do than what her mind can imagine.
Compare her initial attitude toward caregiving with Gaby's toward
waitressing. Both women come to view such manual labor as a form of
atonement. Is this healthy?
When Helen describes growing up with her mother, the anger and
resentment she felt toward Charlotte is obvious even though it was
tempered by great love. How can we help friends and colleagues face
the unique challenges of caregiving?
Who do you think gave Cate Miriam's journal entries? Why were they
given to her?
At the end of the novel, Cate comes home to Amberley. Compare
that scene with her arrival by bus in chapter one. Think about how
the women of Amberley changed in the interim. Is Cate a catalyst for
change much as Miriam was decades before?
or
Not Currently Available for Direct Purchase