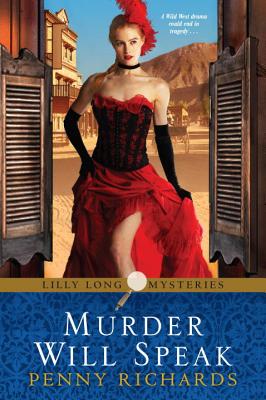 Murder Will Speak (Lilly Long Mysteries #3) (Paperback)
Kensington, 9781496706065, 272pp.
Publication Date: April 24, 2018
* Individual store prices may vary.
Description
In 1880s Chicago, Shakespearean actress turned Pinkerton detective Lilly Long must play the part of a soiled dove to find a missing friend . . .
 
As one of a handful of female operatives employed by legendary crime fighter Allan Pinkerton, Lilly draws on her theatrical training to go undercover in situations inaccessible to male detectives—much to the discomfort of her partner, Cade McShane. Their latest case takes them to the rough and rowdy bordellos that line Hell's Half Acre in Fort Worth, Texas—truly the Wild West.
 
This time the case is deeply personal. Lilly's friend, Nora Nash, who traveled to Fort Worth as a
mail-order bride, has instead been forced into prostitution. After a desperate call for help, Nora has gone missing. To find her, Lilly must revamp herself as a vamp and expose a seamy underworld of unspeakable secrets where anything goes. But she and Cade soon discover firsthand that lives are cheap in Hell's Half Acre—including their own . . .
 
Praise for Penny Richards and An Untimely Frost
 
 "A strong heroine and the intriguing Pinkertons make this historical mystery a cozy way to spend a weekend. Lilly Long's independence and stubborn spirit will immediately endear her to many readers."
 —RT Book Reviews (4 Stars)
 
"Penny Richards has created a fascinating heroine, a great mystery,
and an exceptional play on history."
—New York Times bestselling author, Heather Graham 
About the Author
Penny Richards sold her first book in 1983 and has written over forty well-received books, mostly contemporary romances. She now writes historical mystery and inspirational historical romance. Penny lives in Arkansas, where she is hard at work on the next Lilly Long Mystery.
 
Visit Penny at www.pennyrichardswrites.com; on Facebook at
www.facebook.com/Penny-Richards-Author, and follow her at twitter.com/pennyRwrites.