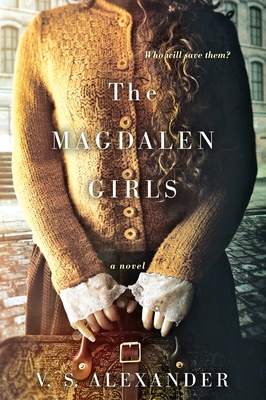 The Magdalen Girls
Paperback

* Individual store prices may vary.
Other Editions of This Title:
MP3 CD (12/27/2016)
Compact Disc (12/27/2016)
Compact Disc (12/27/2016)
Description
Dublin, 1962. Within the gated grounds of the convent of The Sisters of the Holy Redemption lies one of the city's Magdalen Laundries. Once places of refuge, the laundries have evolved into grim workhouses. Some inmates are "fallen" women—unwed mothers, prostitutes, or petty criminals. Most are ordinary girls whose only sin lies in being too pretty, too independent, or tempting the wrong man. Among them is sixteen-year-old Teagan Tiernan, sent by her family when her beauty provokes a lustful revelation from a young priest.

Teagan soon befriends Nora Craven, a new arrival who thought nothing could be worse than living in a squalid tenement flat. Stripped of their freedom and dignity, the girls are given new names and denied contact with the outside world. The Mother Superior, Sister Anne, who has secrets of her own, inflicts cruel, dehumanizing punishments—but always in the name of love. Finally, Nora and Teagan find an ally in the reclusive Lea, who helps them endure—and plot an escape. But as they will discover, the outside world has dangers too, especially for young women with soiled reputations.

Told with candor, compassion, and vivid historical detail, The Magdalen Girls is a masterfully written novel of life within the era's notorious institutions—and an inspiring story of friendship, hope, and unyielding courage.
Praise For The Magdalen Girls…
Praise for THE MAGDALEN GIRLS by V.S. Alexander

"Filled with authentic details . . . Alexander methodically builds the details of the dreary and demanding existence that has become daily life for these girls who had dreams and ambitions like other 16-year-olds. As the girls' friendship progresses and their desperation to escape grows, the story quickens, racing toward an ending that is both incredibly sad and hopeful. Because the novel is historically accurate (the last Magdalen laundry closed in 1996), the events depicted are particularly distressing, forcing readers to be engrossed and horrified by what the Catholic Church and other secular and religious entities did to rehabilitate "fallen" women, who needed the grace of God to be saved from their sinful lives, no matter how true or untrue." —ShelfAwareness

"Showcasing hard-won victories and a terrible tragedy, this novel shines a light on a dark period in twentieth-century Ireland. Alexander has done his homework, peppering his novel with details of the convent lifestyle and the shameful treatment of the Magdalen laundry girls. Fans of Barbara Davis and Ashley Hay will enjoy this tenderhearted story of sinners, saints, and redemption." —Booklist

"Using the pen name Alexander, author Michael Meeske has clearly done his homework. Chilling in its realism, his work depicts the improprieties long abandoned by the Catholic Church and only recently acknowledged. Fans of the book and film Philomena will want to read this." —Library Journal

"Set in early 1960s Dublin, Alexander's first novel chronicles the lives of three teenagers who are sent to live indefinitely as penitents under the watch of occasionally sadistic Catholic Nuns . . . The Magdalen laundries where Teagan works were infamous for their severe conditions and the inhuman way their girls were treated." —Publishers Weekly

"Powerful writing . . . a fine tribute." —SCENE Magazine (Florida)

"A haunting novel that takes the reader into the cruel world of Ireland's Magdalene laundries and shines a light on yet another notorious institution that somehow survived into the late twentieth century. A real page-turner!" —Ellen Marie Wiseman, author of What She Left Behind

"I was completely moved by this historically-accurate, vivid accounting of one of the most troublesome aspects of the Catholic Church; yet ultimately, it's a story of friendship, hope, and courage." —Leslie Lindsay, Reviewer and Blogger, Goodreads

"The author has a magnificent eye for detail. He draws so vividly the laundry in operation, the girls' living quarters and garments, the architecture of the convent and adjacent orphanage, the family dwellings and the physical characteristics of the ample and fascinating cast of characters" —Florida Weekly

"Alexander's research of the treatment within the convent is clear and true; the girls suffer, and suffer in silence. Their personal narratives are told through wonderful prose" —Historical Novels Society

"This is a tale of friendship, bravery, faith and forgiveness that transcends many of the books written on the subject." —RT Book Reviews

"It's exciting to see this (subject) being tackled in this new release." —CulturedViltures.com, "6 Biggest Books of December"
Kensington, 9781496706126, 304pp.
Publication Date: December 27, 2016
About the Author
V.S. Alexander is an ardent student of history with a strong interest in music and the visual arts. Some of V.S.'s writing influences include Shirley Jackson, Oscar Wilde, Daphne du Maurier, or any work by the exquisite Brontë sisters. V.S. lives in Florida and is at work on a second historical novel for Kensington.