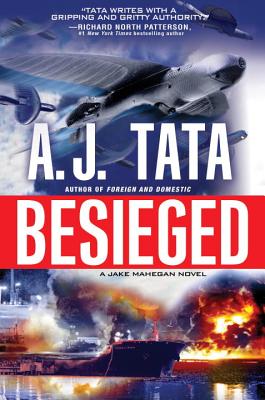 Besieged (A Jake Mahegan Thriller #3) (Hardcover)
Kensington, 9781496706638, 464pp.
Publication Date: February 28, 2017
Other Editions of This Title:
Mass Market (11/28/2017)
MP3 CD (11/28/2017)
* Individual store prices may vary.
Description
A Publishers Weekly Best Book of the Year

Powerful, thrilling, and explosively authentic, the novels of Brigadier General A.J. Tata have won acclaim from President George W. Bush, Glenn Beck, and the bestselling masters of suspense. In Besieged, he tackles the rise of domestic terrorism in America—and puts his hero, Jake Mahegan, in the crackling center of a firestorm. . .

It starts with the unthinkable. A school under siege. A shooter in the classroom. A nightmare scenario that has become all too common in today's United States. But this time, former Delta Captain Jake Mahegan is there when it happens.

Checking in on the schoolteacher daughter of a colleague, Mahegan finds himself face to face with a merciless gunman rigged as a suicide bomber. Without warning, the school is attacked from the outside as well—and all hell breaks loose. The teacher shoots the gunman, Mahegan is knocked unconscious, and a twelve-year-old autistic girl named Misha is kidnapped.

When the smoke clears, Mahegan is left with a long list of unanswered questions—and a deeply personal mission to rescue Misha. Racing against the clock, his search will take him from the tech-fueled think-tanks of a North Carolina factory to the top-secret nerve centers of embedded Iranian agents. It's all part of a bigger, darker conspiracy that's taking domestic terrorism to a whole new level. And it's up to Mahegan to stop what could be the most devastating attack in U.S. history. . .

Praise for BESIEGED

"Tata's hero. . .is still someone you want on your side when the odds are not favorable. Fans of Lee Child and Brad Thor will also enjoy [Jake] Mahegan's adventures." —Booklist

"Tata combines distinctive characters and unconventional threats to thrilling effect . . . terrific." —Publishers Weekly (Starred review)

Praise for A.J. Tata and his electrifying thrillers

"Foreign and Domestic is absolutely fantastic . . . pulse‑pounding . . . a brilliant, cutting‑edge plot that will keep you on the edge‑of‑your‑seat until the very last page." —New York Times bestselling author Brad Thor

"Gripping and gritty." —Richard North Patterson, #1 New York Times bestselling author

Brigadier General Tata donates a portion of his earnings to the USO Metro DC, the North Carolina Heroes Fund, and the Michael Murphy Foundation.
About the Author
Brigadier General Anthony J. Tata, U.S. Army (Retired), commanded combat units in the 82nd and 101st Airborne Divisions and the 10th Mountain Division. His last combat tour was in Afghanistan in 2007 where he earned the Combat Action Badge and Bronze Star Medal. He is the author of six critically acclaimed novels, Sudden Threat, Rogue Threat, Hidden Threat, Mortal Threat, Foreign and Domestic (and Three Minutes to Midnight. He is a frequent foreign policy guest commentator on Fox News, CNN, CBS News, The Daily Buzz and Tipping Point with Liz Wheeler. NBC's Today Show featured General Tata's career transition from the army to education leadership where he has served as the Chief Operations Officer of Washington, DC Public Schools for firebrand Chancellor Michelle Rhee and as the Superintendent of the 16th largest school district in the nation in Wake County/Raleigh, NC. He was most recently North Carolina's Secretary of Transportation.

Brigadier General Tata donates a portion of his earnings to the USO Metro DC, the North Carolina Heroes Fund, and the Michael Murphy Foundation.
Praise For Besieged (A Jake Mahegan Thriller #3)…
Praise for A.J. Tata's Jake Mahegan Series:
 
"A riveting look at the terrifying reality of domestic terrorism." —Glenn Beck
 
"A must read for fans of thriller fiction." —Newt Gingrich
 
"Tata writes with a GRIPPING AND GRITTY authority." —Richard North Patterson, #1 New York Times Bestselling Author
 
"ABSOLUTELY FANTASTIC...PULSE-POUNDING." —Brad Thor, #1 New York Times Bestselling Author
 
"An explosive, seat of your pants thriller!" —W.E.B. Griffin, #1 New York Times Bestselling Author
 
"Topical, frightening, possible, and riveting." —James Rollins, New York Times Bestselling Author

"Powerful and timely. Great stuff!" —John Lescroart, New York Times Bestselling Author
 
"General Tata's story mixes high-threat combat with an intriguing and surprising mystery. Vivid and complex characters make this a fascinating read." —Larry Bond, New York Times Bestselling Author
 
"Grabs you and doesn't let go...written by a man who's "been there," this vibrant thriller will take you to places as frightening as the darkest secrets behind tomorrow's headlines." —Ralph Peters, New York Times Bestselling Author
 
"I thoroughly enjoyed it…well done!" —President George Bush
or
Not Currently Available for Direct Purchase