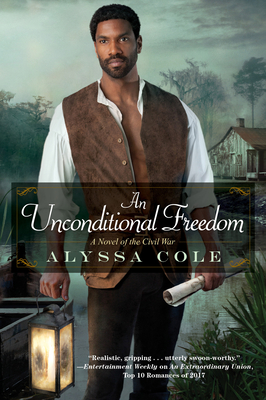 An Unconditional Freedom
An Epic Love Story of the Civil War (The Loyal League #3)
Paperback

* Individual store prices may vary.
Other Editions of This Title:
Digital Audiobook (2/25/2019)
Library Binding, Large Print (6/19/2019)
Description
Award-winning author Alyssa Cole returns with her highly-acclaimed Loyal League series exploring the untold role of people of color in the fight to end slavery. This time, an assassination plot could end the Civil War, and a hidden enemy could destroy a secret league of unsung heroes . . .
 
Daniel Cumberland, born free in Massachusetts, studied law with dreams of helping his people—dreams that died the night he was kidnapped and sold into slavery. Daniel is rescued, but he's a changed man. When he's offered entry into the Loyal League, the covert organization of Black spies who helped free him, he seizes the opportunity for vengeance against the Confederacy and those who support it.
 
When the Union Army occupies the Florida home of Cuban Janeta Sanchez, daughter of an enslaved woman and the plantation owner who married her, her family's wealth does not protect her father from being imprisoned. Under duress and blaming herself for the arrest, Janeta agrees to infiltrate a group called the Loyal League as a double agent—and finds a cause truly worth the sacrifice.
 
Daniel is aggravated by the headstrong and much too observant new detective he's paired with, and Janeta is intrigued by the broken but honorable man she is tasked with betraying. As they embark on a mission to intercept Jefferson Davis and thwart European meddling, their dual hidden agendas are threatened by the ghosts of their pasts and a growing affection that could strengthen both the Union and their souls—or lead to their downfall.  

Praise for An Unconditional Freedom

"Forbidden attraction and the threat of betrayal are the initial hooks for what turns out to be a sumptuously written and meticulously researched tale of a country at war with itself and two damaged people who find themselves in each other's arms."
—Kirkus Reviews STARRED REVIEW

"This third and hopefully not last installment in Cole's Loyal League series is historical romance at its finest."
—Booklist STARRED REVIEW

"[A] triumphant conclusion to an outstanding series that has redefined the possibilities of historical romance."
—Publishers Weekly STARRED REVIEW

"A heroine torn by conflicting loyalties and a vengeance-driven hero haunted by the past struggle to come to terms with reality and their feelings in this emotionally compelling, information-rich story."
—Library Journal

"Her most powerful novel yet."
—Entertainment Weekly
Praise For An Unconditional Freedom: An Epic Love Story of the Civil War (The Loyal League #3)…
Exceptional Praise for The Loyal League Series
 
"It's gratifying to read a novel that deals so frankly with such issues and takes an unflinching view of the realities of life during the Civil War rather than reiterating the dangerous Lost Cause rhetoric that often colors romance narratives of this era." —Entertainment Weekly on A Hope Divided
 
"Successfully navigating the challenges of writing an interracial romance set during the Civil War is difficult enough to do once, but to pull it off twice is truly impressive. And yet Cole has managed to do just that with her second book in the series." —Shondaland.com on A Hope Divided
 
"Thoughtfully portrayed characters with deep minds and passionate hearts make this second novel in Cole's Loyal League series, following An Extraordinary Union (2017), sparkle. Highly recommended for lovers of historical romance." —Booklist, starred review for A Hope Divided
 
"Alyssa Cole's An Extraordinary Union was one of our favorite spring romances, and this season she returns with the sequel." —Bookish "Autumn's 2017 Most Swoon-Worthy Romance Books" list for A Hope Divided
 
"An exceptional story that both educates and entertains and beautifully launches a unique series." —Library Journal STARRED REVIEW, Editor's Fall Picks for An Extraordinary Union
 
"The second book in Cole's Loyal League series (An Extraordinary Union, 2017) follows much the same pattern as the first. Again, Cole's heroine is gorgeously portrayed and powerful enough that readers will worship at her feet just as Ewan does. But if this book shows that Cole is settling into a pattern, readers won't want her to break the mold on book No. 3. Her prose is flawless. Her historical research is absorbing, and her characters are achingly human. This book is fantastic. As the war closes in around them, the line blurs between who is the rescuer and who is the rescued." —Kirkus starred review for A Hope Divided
 
"Brace yourself for another amazing installment of Cole's The Loyal League series! A Hope Dividedfeatures plenty of twists and turns that make Marlie's family secrets as surprising to the reader as they are to her." —RT Book Reviews, 5 Stars Gold for A Hope Divided
  
"Cole's books are always timely, and yet timeless. She has a solid grounding of how to use history in her plots, and knows exactly what story she wants to tell. I could not put this down, even as some of the characterizations made me squirm in recognition (Marlie's White sister is the ancestor of a lot of white feminism. Like, a lot). I love it when the second book in a series totally exceeds the (very high) expectations of the first book." —Smart Bitches Trashy Books on A Hope Divided
 
"Cole does the seemingly impossible, using the Civil War as a backdrop for a realistic, gripping interracial romance that interrogates slavery, systemic racism, and more, while still remaining utterly swoon-worthy." —Entertainment Weekly on An Extraordinary Union, Top 10 Romances of 2017
 
"Cole deftly interweaves the fraught realities of American history with romance and adventure — this is a spy story, after all — and it is elegantly told." —Vulture.com on An Extraordinary Union
 
"The first installment in Cole's Loyal League series defies genre stereotypes at every turn. It's both a romance and a spy novel, with a healthy dose of adventure thrown in, and it offers a nuanced portrayal of Civil War–era racial politics. Any reader who thinks romance novels are pure fluff will be schooled by Cole's richly drawn characters, who must overcome generations of trauma in order to let themselves love each other." —Kirkus starred review on An Extraordinary Union
 
"Cole's sparkling gem of a romance portrays love at its most practical and sublime." —Publishers Weekly starred review, BEST BOOKS OF 2017 on An Extraordinary Union
 
"Cole spins a tale that will pull you in from the very first page." —RT Book Reviews *five star* Top Pick review on An Extraordinary Union
 
"In the first installment in what should be a spectacular new series, Cole opens her adventurous historical romance at the beginning of the American Civil War." —Booklist starred review Top 10 Romance Fiction: 2017 on An Extraordinary Union
 
"Cole's Civil War-set romance boasts one of the most delightfully, unapologetically powerful heroines in recent memory. Elle Burns quotes The Art of War in between dodging Confederate bullets, and by the end of An Extraordinary Union, readers are just as smitten with her as her adoring love interest is." —BookPage 10 Best Romance Novels of 2017 on An Extraordinary Union
 
"Alyssa Cole in any situation is magic, and from what I've heard from advance readers it's going to change the face of historical romance." —BookRiot Best Books of 2017 (So Far) on An Extraordinary Union
 
"With projects like WGN America's Underground, Cole's lively novel—besides being an enjoyable romance full of adventure and extremely good lust—is therefore part of a long-overdue pushback against the way historical fiction portrays this seminal moment in American history." —Jezebel onAn Extraordinary Union
 
"A compelling and engrossing historical civil war romance between two spies, a free black woman and a Scottish immigrant that leaves you spellbound." —Huffington Post on An Extraordinary Union
Kensington, 9781496707482, 288pp.
Publication Date: February 26, 2019
About the Author
Alyssa Cole is an award-winning author of historical, contemporary romance, and SFF romance. She's contributed to publications including Shondaland, The Toast, Vulture, RT Book Reviews, and Heroes and Heartbreakers, and her books have received critical acclaim from Library Journal, Kirkus, Booklist, Jezebel, Vulture, Book Riot, Entertainment Weekly, and various other outlets. When she's not working, she can often be found watching anime with her husband or wrangling their menagerie of animals. Visit her at www.alyssacole.com.