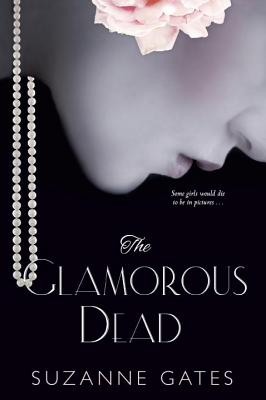 The Glamorous Dead
Paperback

* Individual store prices may vary.
Description
Set in the dream factory of the 1940s, this glittering debut novel follows a young Hollywood hopeful into a star-studded web of scandal, celebrity, and murder . . .
 
The chipped pink nail polish is a dead giveaway—no pun intended. When a human thumb is discovered near a Hollywood nightclub, it doesn't take long for the police to identify its owner. Miss Penny Harp would recognize that pink anywhere: it belongs to her best friend, Rosemary. And so does the rest of the body buried beneath it. Rosemary, with the beauty and talent, who stood out from all other extras on the Paramount lot. She was the one whose name was destined for a movie marquee—not for the obituaries. And for an extra twist, now an LAPD detective thinks Penny is the one who killed her . . .
 
Penny is determined to prove her innocence—with a little help from an unlikely ally, the world-famous queen of film noir, Barbara Stanwyck. Penny met "Stany" on the set of Paramount's classic comedy The Lady Eve, where the star took an instant liking to her. With Stany's powerful connections and no-nonsense style, she has no trouble following clues out of the studio backlot, from the Los Angeles morgue to the Zanzibar Room to the dark, winding streets of Beverly Hills. But there's something Penny isn't telling her famous partner in crimesolving: a not-so-glamorous secret that could lead them to Rosemary's killer—or send Penny to the electric chair . . .
 
"Suzanne Gates hits the sweet spot at the corner of literary and genre with her exquisite
writing. . . . A captivating story of star-struck dreams and redemption."
--Lissa Price, Internationally Bestselling Author of the Starters series
Praise For The Glamorous Dead…
"Quotes from the magazine Photoplay begin each chapter in this gritty, noir debut that vividly captures the atmosphere of glamorous parties, movie stars, and influential studios. Readers of Kelli Stanley's 'Miranda Corbie' mysteries or Linda L. Richards's 'Kitty Pangborn' crime novels will appreciate the celebrity and culture of the period."—Library Journal
 
"Gates' first novel is full of the cameos and factoids that fans of Hollywood's Golden Age will enjoy…the book is a treasure trove of movie lore. Full of moxie, Penny is the perfect leading lady for this entertaining mystery."—Booklist
 
"[An] impressive first novel, set in pre-WWII Hollywood….Gates skillfully evokes a Hollywood era when the studio chiefs wielded enormous power over the lives of everyone in their orbits and would go to any length to protect their stars and big-budget movies. Glamour takes a back seat to lust, lies, and greed in this well-wrought mystery."—Publishers Weekly
 
"Suzanne Gates hits the sweet spot at the corner of literary and genre with her exquisite writing. She spins a captivating story of star-struck dreams and redemption set in the seductive glamour of forties Hollywood. This is an absolutely juicy debut from a sophisticated new voice."—Lissa Price, Internationally Bestselling author of the Starters series
 
"This is truly a glorious tale set in 1940's Hollywood, when mysteries ran amok and characters were colorful, memorable and a whole lot of fun to be around."—Suspense Magazine
 
"Surrounded by the rich and famous, this mystery is never cut and dry. There are no clear villains, but the mood and ambiance of the era are front and center. Recognizable names are dropped with glee throughout. While the motive for the crime(s) takes time to develop, this is an entertaining piece of work that will keep readers engaged until the end."—RT Book Reviews
Kensington, 9781496708120, 320pp.
Publication Date: October 31, 2017
About the Author
Suzanne Gates began writing historical crime fiction after listening to family stories about her great-uncle, a gangster in 1930s Los Angeles. She received her Master of Fine Arts in Creative Writing from the University of California, Irvine, and she lives in Southern California. The Glamorous Dead is her first novel. Visit Suzanne at www.suzannegates.com.
or
Not Currently Available for Direct Purchase