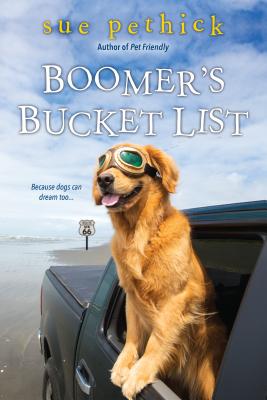 Boomer's Bucket List (Paperback)
Kensington, 9781496709042, 256pp.
Publication Date: December 27, 2016
* Individual store prices may vary.
Description
Author Sue Pethick presents a warm and fuzzy love story about a passionate pet owner, a smitten news man, and an unforgettable dog who steals everybody's hearts . . .
 
When her cuddly canine companion Boomer is diagnosed with a rare heart condition, Jennifer Westbrook decides to take a leave of absence from her busy PR job—and take Boomer on the greatest road trip of his life.
 
Charting a course from Chicago to California, Jennifer plans some pet-friendly pit stops for her four-legged friend, including a dog show, a fire hydrant museum, and a factory full of squeaky toys. But when she tries to sneak Boomer into a NASCAR press box—disguised as her seeing-eye dog—Jennifer's cover is blown by a curious, but very cute reporter named Nathan Koslow.
 
Boomer takes an instant shine to Nathan, unlike the other men in Jennifer's life. When the charming journalist asks to join them on their journey, she can't say no. But when she learns that someone has created a website called "Boomer's Bucket List"—and it's gone totally viral—the trip takes a wildly unexpected turn for Jennifer, Nathan, and the dog who brought them together.
 
It almost seems as if Boomer's last wish is that his two favorite humans fall madly, deeply, in love . . .
 
A Rave For Sue Pethick's Pet Friendly
 
"Quirky and endearing . . . especially when factoring in the hilarious antics of a certain four-legged character. The brewing romance tempers the humor with heart. The plot . . . delights. This is a light, heartwarming read perfect for a wintry afternoon at home or a sunny beach vacation." —RT Book Reviews, 4 Stars
About the Author
Sue Pethick is an award-winning short story writer whose life-long love of animals inspired her to write Boomer's Bucket List. Born in San Diego, California, she now lives with her husband in Vancouver, Washington. Please visit Sue online at www.SuePethick.com.
Praise For Boomer's Bucket List…
"Grab a treasured pet and a box of tissues before sitting down to read this endearing tale. Pethick has a knack for writing  dogs with personality, and Boomer is no exception. Both witty and emotional, this touching novel is a journey through  America's heartland. The romance takes a backseat while supporting the plot in all the best ways…This is a great road trip  read!" —RT Book Reviews on Boomer's Bucket List
 
"A beautiful book filled with warmth, Boomer's Bucket List will tug at your heart strings for more reasons than one as you join Jennifer, Nathan, and Boomer in this journey filled with love, loss, and friendship." —Modern Dog on Boomer's Bucket List
  
"A relatable story of how much our furry friends mean to us." —The Parkersburg News & Sentinel
 
"If you want something squeaky-clean to share with any teen or adult you know, this is it. No profanity, no steamy scenes, no problems — just a nice romance with a few curves. That's "Boomer's Bucket List," so jump on it."
—Terri Schlichenmeyer, The Bookworm (nationally syndicated column)