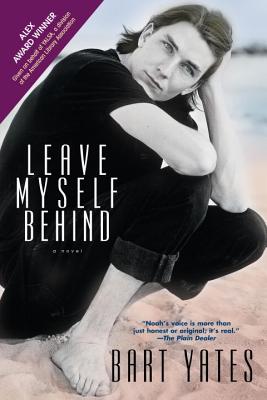 Leave Myself Behind (Paperback)
Kensington, 9781496709448, 256pp.
Publication Date: February 28, 2017
Other Editions of This Title:
Paperback (4/1/2004)
* Individual store prices may vary.
Description
"Noah's voice is more than just honest or original; it's real." --The Plain Dealer

THE WORLD ACCORDING TO NOAH YORK:

"Anybody who tells you he doesn't have mixed feelings about his mother is either stupid or a liar."

"Real life seldom makes me cry. The only thing that gets to me is the occasional Kodak commercial."

"Sometimes I feel like Michelangelo, chiseling away at all the crap until nothing is left but the exquisite thing in the middle that no one else sees until it's uncovered for them."

"Anyway…"  

Meet seventeen-year-old Noah York, the hilariously profane, searingly honest, completely engaging narrator of Bart Yates's astonishing debut novel. With a mouth like a truck driver and eyes that see through the lies of the world, Noah is heading into a life that's only getting more complicated by the day.

His dead father is fading into a snapshot memory. His mother, the famous psycho-poet, has relocated them from Chicago to a rural New England town that looks like an advertisement for small-town America—a bad advertisement. He can't seem to start a sentence without using the "f" word. And now, the very house he lives in is coming apart at the seams—literally—torn down bit by bit as he and his mother renovate the old Victorian. But deep within the walls lie secrets from a previous life—mason jars stuffed with bits of clothing, scraps of writing, old photographs—disturbing clues to the mysterious existence of a woman who disappeared decades before. While his mother grows more obsessed and unsettled by the discovery of these homemade reliquaries, Noah fights his own troubling obsession with the boy next door, the enigmatic J.D. It is J.D. who begins to quietly anchor Noah to his new life. J.D., who is hiding terrible, haunting pain behind an easy smile and a carefree attitude.

Part Portnoy, part Holden Caulfield, never less than truthful, and always fully human, Noah York is a touching and unforgettable character. His story is one of hope and heartbreak, love and redemption, of holding on to old wounds when new skin is what's needed, and of the power of growing up whole once every secret has been set free.

"Noah's blunt, funny and dead-on narrative will lend this memorable tale of
young-but-cynical love a fresh resonance with readers of all ages, gay or straight, male or female." --Brian Malloy, author of The Year of Ice
About the Author
BART YATES lives in Iowa City, Iowa, where he works as a freelance musician and teacher. He has a master's degree from Boston University, and he plays clarinet in a jazz duo, Nica's Dream. He is the author of the award-winning Leave Myself Behind as well as The Brothers Bishop. Readers may visit his website at www.bartyates.com.