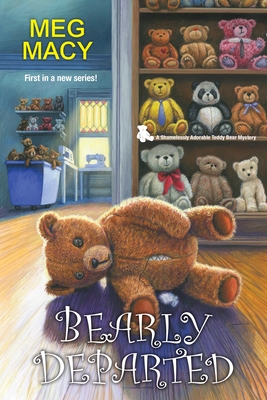 Bearly Departed (A Teddy Bear Mystery #1) (Paperback)
Kensington, 9781496709639, 288pp.
Publication Date: May 30, 2017
Other Editions of This Title:
Paperback, Large Print (9/20/2017)
* Individual store prices may vary.
Description
"You'll fall in love with this delightful debut mystery." —Victoria Thompson, bestselling author of Murder in Morningside Heights

The Silver Bear Shop and Factory might be the cutest place around, but there's nothing warm and fuzzy about murder . . .

As manager of the family teddy bear shop and factory, thirty-one-year-old Sasha Silverman leads a charmed life. Well, except for the part about being a single divorcée with a ticking biological clock in small-town Silver Hollow. And that's just kid's stuff compared to Will Taylor, the sales rep who's set on making drastic changes to the business her parents built from scratch—with or without Sasha's approval . . .

But before Will digs his claws in, someone pulls the stuffing out of his plan . . . and leaves his dead body inside the factory. Reeling from shock, Sasha's hit with more bad news—police suspect her hot-tempered Uncle Ross may have murdered him. Sasha knows her uncle would never do such a thing, and she's launching her own little investigation to expose the truth. As she tracks Will's biggest rivals and enemies for clues, Sasha can't get too comfy—or she'll become the next plaything for a killer . . .

"A twisty mystery tale with a likable protagonist and a colorful supporting cast. Sure to be a very enjoyable series!"—Livia J. Washburn, bestselling author of Black and Blueberry Die

"Cute and cuddly on the outside, murder and mayhem on the inside—I love this book!!! Totally adorable."—Duffy Brown, bestselling author of Braking for Bodies
About the Author
Meg Macy is an award-winning author and artist. She writes several genres, sometimes blended, using different pseudonyms. She is one-half of the writing team of D.E. Ireland, authors of the Eliza and Henry Higgins Mystery series (St. Martin/Minotaur), the first of which, Wouldn't It Be Deadly, was nominated for a 2014 Agatha Award. Her first book, Double Crossing (writing as Meg Mims), won the 2012 Spur Award for Best First Novel from the Western Writers of America and was named a Finalist in the Best Books of 2012 from USA Book News for Fiction: Western. Two of her contemporary romance novellas were Amazon Kindle bestsellers. Born and raised in Michigan, Meg lives with her husband, a "Make My Day" white Malti-poo, and a rescue Lhasa Apso. Her artistic work is in watercolor, acrylic, and pen/ink media. She loves classic movies, cartoon strips, clocks, and cookies. Visit the author online at megmacy.com, Facebook.com/MegMacyTeddyBearCozies/, twitter.com/megmims, and pinterest.com/meg_macy.
Praise For Bearly Departed (A Teddy Bear Mystery #1)…
Praise for Meg Macy's Shamelessly Adorable Teddy Bear mysteries:
 
"You'll fall in love with this delightful debut mystery." —Victoria Thompson, bestselling author of the Gaslight Mysteries
​
"Teddy bears​,​ quaint shops​, ​and murder! Bearly Departed is​ stuffed with everything cozy mystery readers crave." —Leigh Perry, author of The Family Skeleton Series
 
"Cute and cuddly on the outside, murder and mayhem on the inside—I love this book!!! Totally adorable."—Duffy Brown, bestselling author of the Cycle Path Mysteries
 
"When the summer heat gets too oppressive, grab the second book in Macy's delightful Teddy Bear Mystery series — you'll be transported to small-town Michigan in the fall! The clever use of the teddy bear theme all over town adds to the cozy atmosphere of the book… Well plotted and nicely paced."  –RT Reviews
 
"From the first line to the finale, I was immersed in all facets of this multi-plot drama." –Dru's Book Musings
​
"I was kept guessing until the final suspenseful reveal. I loved the first adorable book and I was more than delighted with this second installment in the series!" –Cinnamon Sugar and a Little Bit of Murder Reviews
​
"Those pages were really flying and so much was happening, there was no way I was going to put this book down until I reached the end. By the way, I was wrong and surprised by the ending. I loved it!" –Dollycas Reviews
 
"This second book in the series doesn't disappoint...  I loved the cuddly nature of the story and the theme of OktoBear Fest. Made me wish I truly lived in a small town with fun activities like this." –A Cup of Tea and a Cozy Mystery
​​
"I would be thrilled to recommend this book to all mystery fans, I say buy it now and read it in the fall! A five star hit and I can't wait for the next!" –Bibliophile Reviews
​
"Order a pizza, blow off dinner, and get lost in this book."  –A Cozy Experience
​
"I am looking forward to visiting Silver Hollow again, not only because Ms. Macy is such a talented writer, but because I love teddy bears as much as I love cozy mysteries." –Melina's Book Blog