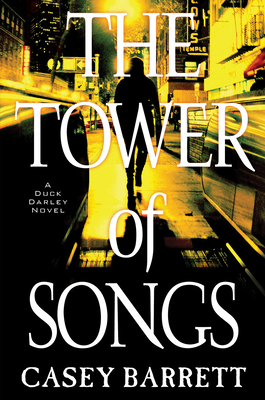 The Tower of Songs (A Duck Darley Novel #3) (Hardcover)
Kensington, 9781496709745, 336pp.
Publication Date: August 27, 2019
* Individual store prices may vary.
Description
Embracing an improbable stretch of sobriety, unlicensed P.I. Duck Darley has proven himself stronger than the temptations that loom in the shadows of New York City. But the familiar pull of self-destruction lingers like garbage in July when Layla Soto, a sharp-tongued Park Avenue teenager with a family as screwed up as his own, presents a twisted missing-persons case he can't refuse . . .
 
Layla saw video evidence of her billionaire father being abducted from their home—at the top of the tallest residential tower on earth. She suspects her grandmother, a Chinese social climber on husband number three, orchestrated the act to silence her only son. Duck agrees to investigate the hedge funder's disappearance, if only for the rush of a new thrill—and an excuse to reconcile with Cass Kimball, his leather-clad sometime partner who nearly got him killed . . .
 
As the unlikely duo become immersed in a high-stakes ransom linked to the international drug trade and the delicate relations between the two most powerful nations on earth, survival means trusting no one. Because when confronting absolute power, certain forces will stop at nothing to bury the truth.
About the Author
Casey Barrett is a Canadian Olympian and the co-founder and co-CEO of Imagine Swimming, New York City's largest learn-to-swim school. He has won three Emmy awards and one Peabody award for his work on NBC's broadcasts of the Olympic Games in 2000, 2004, 2006, and 2008. His debut novel, Under Water, was nominated for a 2018 Shamus Award. Casey lives in Manhattan and the Catskill mountains of New York with his wife, daughter, and dog. He can be found online at caseybarrettbooks.com.
Praise For The Tower of Songs (A Duck Darley Novel #3)…
Praise for The Tower of Songs

"Chilling… an adventure spaced around disquisitions on the decline of civilization (especially the American part), the miseries and pleasures of alcohol and oxy addiction, and the otherworldliness of the superrich."
—Booklist

"This one has sleeper-hit written all over it. Fast-paced and well-plotted, Barrett's thriller is one of the most underrated books set to come out this month."
—The Real Book Spy

"Suspenseful…Duck narrates with a voice right out of classic hardboiled noir, complete with existential ruminations on his self-destructive nature."
—Publishers Weekly

"Pointed and polished… a tale that would make Hammett or Chandler proud. The Tower of Songs is hard-boiled crime writing par excellence cut from the cloth of Lawrence Block, Andrew Vachss, with just a touch of Walter Mosely tossed in for good measure. Superb in all respects."
—The Providence Journal


Praise for the Duck Darley Mysteries
 
AGAINST NATURE
 
"[A] well-crafted story with a strong and pleasing narrative style that deftly delivers on plot. A satisfying read, and not just for thriller aficionados."
—Booktrib
 
UNDER WATER
 
2018 Shamus Award Nominee - Best First PI Novel 
 
"Now and again a debut novel comes along that blows you out of the water. The book sings in its sheer narrative momentum."
—Ken Bruen, author of the Jack Taylor Series
 
"Casey Barrett should find himself in the big pool of crime writers with this deftly conceived, crisply written debut."
—New York Times bestselling author Andrew Gross
 
"Deliciously lascivious and violent, Under Water's Vicodin‑fueled hero is impossible not to cheer on. The pull of his dark world will keep readers captivated to the last page."
—Kyle Mills, New York Times bestselling author of Order to Kill
 
"This one has it all:  mystery, suspense, secrets, and a longing for new adventure. It should be mandatory reading for all thriller aficionados."
—New York Times bestselling author Steve Berry
 
"Barrett has created a series character in Duck Darley that rivals any detective or PI out there today: a bourbon‑drinking, fringe‑living antihero you'll find yourself rooting for despite his many flaws. I'm addicted . . . "
—USA Today bestselling author Charlie Donlea
 
 "Olympic swimmer Barrett dives into the disturbing side of competitive sport in his savage thriller debut."
—Publishers Weekly