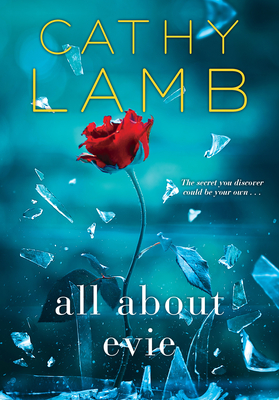 All About Evie
Paperback

* Individual store prices may vary.
Other Editions of This Title:
Library Binding, Large Print (3/11/2020)
Description
Set against the natural beauty of the San Juan Islands in the Pacific Northwest, acclaimed author Cathy Lamb's latest novel tells the emotionally compelling story of one woman's life-changing discovery about her past . . .
 
As a child, Evie Lindsay was unnerved by her premonitions. As an adult, they have become a simple fact of life—sometimes disruptive but also inescapable, much like her quirky, loveable family.  Evie's mother, Poppy, and her aunts, Camellia and Iris, are well known on San Orcanita island for their free-spirited ways and elaborately decorated hats. Their floral shop and Evie's bookstore draw streams of visitors all summer long. This season promises to be extra busy: Evie's sister, Jules, is getting married on the island.
 
As Jules plans her unconventional wedding, she arranges to do a DNA test with her mother, sister, and aunts, to see how much accepted lore about their heritage holds true. The results blow apart everything Evie has grown up believing about herself and her family. Spurred on by the revelations, Evie uncovers the real story of her past. But beyond her feelings of shock and betrayal, there are unexpected opportunities—to come to terms with a gift that has sometimes felt like a curse, to understand the secrets that surrounded her childhood, and to embrace the surprising new life that is waiting for her . . .
Praise For All About Evie…
OUTSTANDING PRAISE FOR CATHY LAMB AND HER NOVELS
 
THE MAN SHE MARRIED
 
"This fast, suspenseful story has quirky, warm characters that contrast well with Zack's dark past and the motives of a dangerous stranger, all building to an action-filled, unexpected resolution."
—Library Journal
 
"Lamb opens her magnetic novel with a tantalizing glimpse of a mystery, and a feisty heroine to root
for. . . . Add that to a fast-moving plot and a rewarding ending, and Lamb has crafted a charmer fit for many keepers' shelves."
—Publishers Weekly
 
NO PLACE I'D RATHER BE
"Lamb's story is raw, real, and robust. Fans of Hannah McKinnon and Mary Kay Andrews will appreciate Lamb's nuanced family dynamic, while historical fiction readers will enjoy the Martindale ancestry. With whip-smart wit and a touch of romance, Lamb presents a tender and genuine novel."
—Booklist
 
"There is a sweet romance and moving historical reference to how one family is damaged for generations by war and persecution."
—Library Journal
 
THE FIRST DAY OF THE REST OF MY LIFE
"The blending of three or more generations and the secrets they harbor keeps this story moving briskly, culminating in a satisfying ending that makes us believe that despite heartache and angst, there can be such a thing as happily ever after."
—New York Journal of Books
 
HENRY'S SISTERS
An Indie Next List Notable Book
 
"A story of strength and reconciliation and change."
—The Sunday Oregonian
 
JULIA'S CHOCOLATES
"Julia's Chocolates is wise, tender, and very funny. In Julia Bennett, Cathy Lamb has created a deeply wonderful character, brave and true. I loved this beguiling novel about love, friendship and the enchantment of really good chocolate."
—Luanne Rice, New York Times bestselling author
Kensington, 9781496709851, 400pp.
Publication Date: October 29, 2019
About the Author
Cathy Lamb is the bestselling author of twelve novels, including The Man She Married, No Place I'd Rather Be, What I Remember Most, The Last Time I Was Me, Henry's Sisters and Julia's Chocolates. She lives with her family in Oregon and can be found online at cathylamb.org.