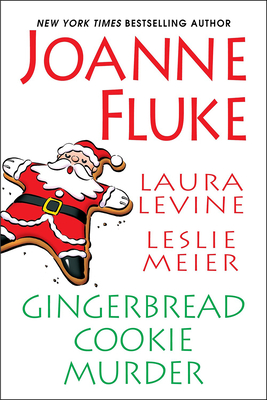 Gingerbread Cookie Murder (Paperback)
Kensington, 9781496710000, 368pp.
Publication Date: October 31, 2017
* Individual store prices may vary.
Description
In this merry collection of holiday mysteries, murder is making its own special delivery . . .
 
"GINGERBREAD COOKIE MURDER" by JOANNE FLUKE
When Hannah Swensen finds her neighbor Ernie Kusak with his head bashed in and sprawled on the floor of his condo next to an upended box of Hannah's Gingerbread Cookies, she discovers a flurry of murder suspects that's as long as her holiday shopping list.
 
"THE DANGERS OF GINGERBREAD COOKIES" by LAURA LEVINE
Jaine Austen has been enlisted to help with her parents' retirement community's play The Gingerbread Cookie That Saved Christmas. Playboy Dr. Preston McCay is playing the role of the gingerbread cookie when he "accidentally" falls to his death during the final act. Now Jaine must figure out if one of the doctor's jealous lovers was capable of murder.
 
"GINGERBREAD COOKIES AND GUNSHOTS" by LESLIE MEIER
When Lucy Stone discovers the body of Rick Juergens, whose five-year-old son Nemo disappeared, she senses foul play. Crumbs from a gingerbread cookie Lucy gave to Nemo are found in the back seat of Rick's car. With the hours quickly ticking till Christmas, Lucy races against the clock to find a killer before he strikes again.
 
Includes Over 10 Luscious Holiday Recipes!
About the Author
JOANNE FLUKE is the New York Times bestselling author of the Hannah Swensen mysteries, which include Double Fudge Brownie Murder, Blackberry Pie Murder, Cinnamon Roll Murder, and the book that started it all, Chocolate Chip Cookie Murder. That first installment in the series premiered as Murder, She Baked:  A Chocolate Chip Cookie Mystery on the Hallmark Movies & Mysteries Channel. Like Hannah Swensen, Joanne Fluke was born and raised in a small town in rural Minnesota, but now lives in Southern California. Please visit her online at www.JoanneFluke.com.  

LAURA LEVINE is a comedy writer whose television credits include The Bob Newhart Show, Laverne & Shirley, The Love Boat, The Jeffersons, Three's Company, and Mary Hartman, Mary Hartman. Her work has been published in The Washington Post and The Los Angeles Times. She lives in Los Angeles, and is currently working on the next Jaine Austen mystery. Readers can visit her website at www.LauraLevineMysteries.com.
 
LESLIE MEIER is the acclaimed author of over twenty Lucy Stone mysteries and has also written for Ellery Queen's Mystery Magazine. She is currently at work on the next Lucy Stone mystery. Readers can visit her website at www.LeslieMeier.com.