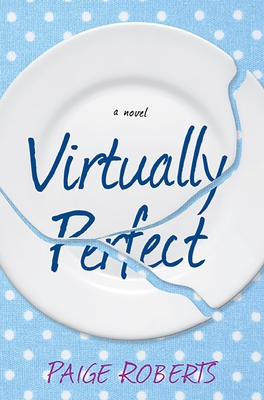 Virtually Perfect (Paperback)
Kensington, 9781496710093, 352pp.
Publication Date: September 26, 2017
Other Editions of This Title:
Pre-Recorded Audio Player (10/1/2017)
* Individual store prices may vary.
Description
Not so long ago, Lizzie Glass had a successful TV show, a cookbook deal, and a social diary crammed with parties and events. But fame doesn't stay fresh for long. Her show fizzles, her magazine column is canceled, and Lizzie's only option is a summer job as personal chef to the Silvesters, a wealthy and eccentric family.
 
Their beach house is a lavish, beautifully decorated palace on the Jersey Shore, and Lizzie gets to work catering to Kathryn and Jim Silvester's fashionably restrictive diets. But it's their
twenty-something daughter who presents Lizzie with her biggest challenge—professionally and personally. A self-proclaimed "wellness warrior," Zoe Silvester has a hugely popular website and app that promotes healthy living and organic, unprocessed foods. Yet Lizzie soon realizes that The Clean Life site has a dirty little secret. In fact, Zoe's entire online persona is based on a dangerous hoax that runs deep and will damage lives. Exposing Zoe won't just jeopardize Lizzie's job and a promising new relationship—it may expose the cracks in her own past.
 
Sharply observed, witty, and thoughtful, Paige Roberts' debut novel is a compelling look at one woman's journey toward reinventing herself—and seeing through the façade of others—to discover the imperfect but sometimes wonderful truth.
About the Author
Paige Roberts is a former journalist who has written for publications such as McSweeney's, Culinate, and Smithsonian.com. She lives in Pennsylvania with her husband and two children.
Praise For Virtually Perfect…
"In Virtually Perfect, newcomer Paige Roberts serves up a fresh take on reinvention and acceptance. Light and satisfying, Virtually Perfect is the perfect weekend read!" -- Amy Sue Nathan, author of Left to Chance
 
"Roberts's spot-on debut novel delves into the virtually perfect façade of an internally imperfect family. The ­author also eloquently splashes in a dash of humor…Readers who enjoy novels with cooking themes will laugh and commiserate with Lizzie as she sweats her way through a summer of gourmet requests, grandiose demands, and secrets she learns about almost too late."– Library Journal