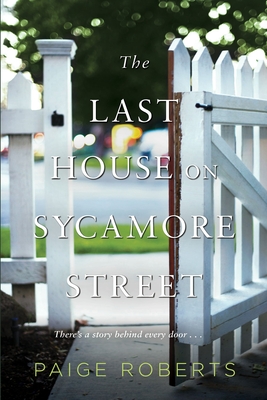 The Last House on Sycamore Street (Paperback)
Kensington, 9781496710116, 352pp.
Publication Date: September 25, 2018
* Individual store prices may vary.
Description
As intriguing as it is relatable, Paige Roberts' compulsively readable novel delves into the secrets and ties that lie between friends—and neighbors.
 
When Amy Kravitz opts to leave Washington, D.C., behind in favor of a less stressful life in the Philadelphia suburbs, she has a certain kind of house in mind. And on a charming street in a
family-friendly neighborhood, she and her husband Rob find it. It's a perfect brick colonial with plenty of space, a beautiful yard, and great schools nearby. The sellers, Julian and Grace Durant, are eager to make a deal. In an unexpected bonus, the Durants' young son, Ethan, strikes up a friendship with Amy and Rob's introverted four-year-old, Noah.
 
Soon, Amy is unpacking boxes in her new home and arranging playdates for Noah and Ethan. But as weeks go by, Amy suspects something isn't quite right. Julian's mail keeps arriving at their old address, and Amy can hardly miss the "Final Notice" stamped on the envelopes in big, red letters. Behind the
laid-back veneer projected by the Durants, Amy senses lives reeling out of control. But how much does Grace know, how much is she choosing to ignore—and is there more at stake in Amy speaking up or in staying silent?
 
Praise for Virtually Perfect
 
"Newcomer Paige Roberts serves up a fresh take on reinvention and acceptance. Light and satisfying, Virtually Perfect is the perfect weekend read!"
—Amy Sue Nathan, author of Left to Chance
 
"Entertaining and incisive . . . Readers are treated to ample helpings of snappy dialogue and vivid characters."
—Publishers Weekly
 
"Roberts's spot-on debut novel delves into the virtually perfect façade of an internally imperfect family. The author also eloquently splashes in a dash of humor."
—Library Journal
About the Author
Paige Roberts is a former journalist who has written for publications such as McSweeney's, Culinate, and Smithsonian.com. She lives in Pennsylvania with her husband and two children.