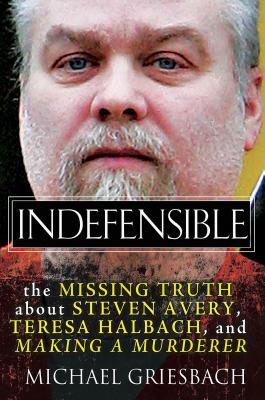 Indefensible (Hardcover)
The Missing Truth about Steven Avery, Teresa Halbach, and Making a Murderer
Kensington, 9781496710130, 304pp.
Publication Date: August 30, 2016
Other Editions of This Title:
Mass Market (3/28/2017)
MP3 CD (3/28/2017)
MP3 CD (8/30/2016)
Compact Disc (8/30/2016)
Pre-Recorded Audio Player (9/1/2016)
Compact Disc (8/30/2016)
* Individual store prices may vary.
Description
An insider exposes the shocking facts deliberately left out of the hit Netflix series Making a Murderer—and argues persuasively that Steven Avery was rightfully convicted in the 2005 killing of Teresa Halbach.
 
After serving eighteen years for a crime he didn't commit, Steven Avery was freed—and filed a thirty-six-million-dollar lawsuit against Manitowoc County, Wisconsin. But before the suit could be settled, Avery was arrested again—this time for the brutal murder of Teresa Halbach—and, through the office of a special prosecutor, convicted once more.
 
When the saga exploded onto the public consciousness with the airing of Making a Murderer, Michael Griesbach, a prosecutor and member of Wisconsin's Innocence Project who had been instrumental in Avery's 2003 exoneration, was targeted on social media, threatened—and plagued by doubt. Now, in this suspenseful, thorough narrative, he recounts his own re-examination of the evidence in light of the whirlwind of controversy stirred up by the blockbuster true-crime series.
 
As Griesbach carefully reviews allegations of tampering and planted evidence, the confession by Avery's developmentally disabled nephew, Brendan Dassey, and statements by Avery's former girlfriend Jodi Stachowski, previously sealed documents deemed inadmissible at trial by Judge Patrick L. Willis—and a little-known, plausible alternate suspect—Griesbach shows how the filmmakers' agenda, the accused man's dramatic backstory, and sensational media coverage have clouded the truth about Steven Avery.
 
Now as Avery's defense counsel files an appeal and prepares to do battle in the courtroom once more, Griesbach fights to set the record straight, determined that evidence should be followed where it leads and justice should be served—for as surely as our legal system should not send an innocent man to prison, neither should it let a guilty man walk free.
 
Includes 16 pages of photos
About the Author
Michael Griesbach is a longtime Wisconsin prosecutor and a member of the board of advisers at the Wisconsin Innocence Project. He is a frequent presenter and panelist on the topic of wrongful convictions and their causes. He has also presented on other topics concerning the criminal justice system and its need for reform. Mr. Griesbach is the author of the widely acclaimed, The Innocent Killer: A True Story of a Wrongful Conviction and Its Astonishing Aftermath, published by the American Bar Association in 2014. He hopes to leave his readers better informed about the criminal justice system and more concerned about those whose lives it deeply affects. He lives in northeastern Wisconsin with his wife Jody and their four children.
Praise For Indefensible: The Missing Truth about Steven Avery, Teresa Halbach, and Making a Murderer…
The Experts Praise INDEFENSIBLE

"In INDEFENSIBLE author Michael Griesbach renders a veteran prosecutor's meticulous examination of the controversial Steven Avery murder case in this masterpiece of truth-seeking. The case received widespread media attention through the Netflix series Making a Murderer.  However, veteran prosecutor Griesbach sets the record straight about the brutal murder of Teresa Halbach with a page-turning re-examination of the facts that gives his argument convincing power.  This book will help you see the majesty of the American legal system, while you wonder at the misconceptions and fallacies that plague it.   INDEFENSIBLE is a must-read real-life legal thriller." —Robert K. Tanenbaum, New York Times Bestselling Author and Former Prosecutor

"Michael Griesbach's INDEFENSIBLE takes on one of the most high-profile cases of our time: the 'Making a Murderer' docudrama. In searing, bare-bones prose, Griesbach, a longtime Wisconsin prosecutor and active member of the advisory board of the Wisconsin Innocence Project, cuts through the rhetoric and prejudiced presentation of the 'documentary' and sets the record straight. The author confirms, beyond any question whatsoever, Steve Avery's guilt, refuting the biased account of so-called 'evidence' the docudrama has, using mimicry and slight-of-the-hand editing, carefully and disingenuously spoon-fed viewers. … Read this book for clear, concise, unimpeachable evidence that Steven Avery is a monster of the most despicable caliber. Trust me, you won't be signing any petitions to get this psychopath out of prison once you've closed the book!" —M. William Phelps, New York Times Bestselling Author & Investigative Journalist

"A riveting, powerful take on the story that had all of America talking. In Indefensible, Michael Griesbach sifts the truth from the convoluted and very messy Steven Avery case. More importantly, Griesbach reminds us that Teresa Haibach is no mere footnote to her own murder. Highly recommended." —Gregg Olsen, New York Times Bestselling True-Crime and Thriller Author
or
Not Currently Available for Direct Purchase