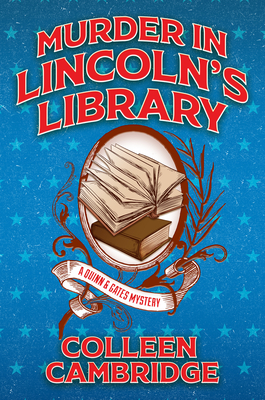 Murder in the Oval Library (Lincoln's White House Mystery #2) (Paperback)
Kensington, 9781496710246, 288pp.
Publication Date: July 30, 2019
Other Editions of This Title:
Compact Disc (8/28/2018)
Hardcover (8/28/2018)
Paperback, Large Print (1/9/2019)
Pre-Recorded Audio Player (12/1/2018)
* Individual store prices may vary.
Description
April 13, 1861: Rebel troops are across the Potomac River, only 800 feet from the White House and President Lincoln—but a murderer is even closer . . .
 
As the Civil War begins, an invasion of Washington, DC, seems imminent. Lincoln's trusted aide, Adam Speed Quinn, and Quinn's old friend, Senator Jim Lane, hastily assemble a motley crew of just over a hundred men and garrison them in the East Room at the White House. But even as dawn breaks, a single act of violence intrudes within the White House. One of the Frontier Guard lies dead in the oval library, throat slit ear to ear. There is a murderer among them.
 
Lincoln promptly assigns Quinn to deal with the matter, who is in turn aided by journalist Sophie Gates and Dr. George Hilton. And to Quinn's chagrin, the Southern belle Constance Lemagne insists on being involved in the investigation as well. But when Dr. Hilton examines the body, he makes a startling discovery that overturns all Quinn's assumptions about the murder. With his president at grave risk from without and within, Quinn must act quickly to catch the White House killer . . .
 
Praise for the previous works of C. M. Gleason:
 
"Exhilarating . . . Sure to please." 
—The New York Times Sunday Book Review
 
"Wonderfully witty . . . deliciously dark and delightfully entertaining." 
—The Chicago Tribune

"Gleason's novel is a well-oiled machine . . . the authentic historical framework . . . the compelling personalities."
—School Library Journal
About the Author
C. M. Gleason is the New York Times and USA Today bestselling author of the Stoker & Holmes series for teens, in addition to the Lincoln White House mysteries. She lives in the Midwest and is hard at work on her next novel. Learn more at: cmgleason.com.
Praise For Murder in the Oval Library (Lincoln's White House Mystery #2)…
Praise for C. M. Gleason's Murder in the Oval Library:

"An excellent mystery combined with brilliant historical detail." --Kirkus Reviews

"A simply riveting read from cover to cover, as author C. M. Gleason exhibits a genuine flair for deftly crafted storytelling and a mastery of the historical mystery genre." –Midwest Book Review

"This story abounds with historical characters as well as fictional ones…Murder in the Oval Library is an example of a single event taking precedence over a more monumental one, one person's murder versus a nation at war. Against that more epic background, the wheels of justice still move, however they may be impeded by the chaos surrounding them. This is a great novel for those who like their mysteries in a historical setting." – New York Journal of Books

"It would have been easy for Gleason to focus only on the murder, but she goes further by providing rich detail about this brief yet fascinating period of the capital's history. Along the way, readers learn about the hardships the city's inhabitants faced as the Rebels cut off supply lines, President Lincoln's frustration over the failure of Union troops to arrive, the struggles of the free black community, and the inconveniences of navigating life in a corset. Gleason masterfully raises the tension surrounding the murder in tandem with the desperation and fear of the city's inhabitants, keeping me turning pages well past my bedtime…Highly recommended." --Historical Novel Society

Praise for C.M. Gleason's Murder in the Lincoln White House:
 
"History, mystery, and a little romance combine with a diverse cast of characters to start the new Lincoln's White House Mystery series that's difficult to put down! Right from the beginning, readers are seamlessly immersed into Lincoln's inaugural ball and then peer over Adam Quinn's shoulder at a shocking murder. This crisp look at our nation's capital on the brink of pivotal history balances well with the mystery at hand and achieves the right blend of both. This broadens the novel's appeal and shines a subtle spotlight on areas in which our current world still parallels the past. Well-known historical figures share the pages with the fictional ensemble, capturing an authentic portrait of the period and adding layers to both the plot and the setting. Perfect for mystery fans as well as Lincoln/Civil War aficionados."- RT Book Reviews, Top Pick

"Gleason does a good job evoking the period with convincing detail." - Publishers Weekly

"Gleason kicks off a new series with an adequate mystery and more than adequate descriptions of the nation's capital at a critical moment in history."– Kirkus Reviews

Praise for the previous works of C. M. Gleason:
 
"Exhilarating . . . Sure to please." —The New York Times Sunday Book Review
 
"Wonderfully witty . . . deliciously dark and delightfully entertaining." —The Chicago Tribune

"Sophisticated, sexy, surprising . . . This book grabs you and holds you tight till the very last page!" —J. R. Ward, #1 New York Times bestselling author

"Gleason's novel is a well-oiled machine . . . the authentic historical framework . . . the compelling personalities."—School Library Journal

"Witty, intriguing, and addictive." —Publishers Weekly

"Phenomenal storytelling." —RT Book Reviews