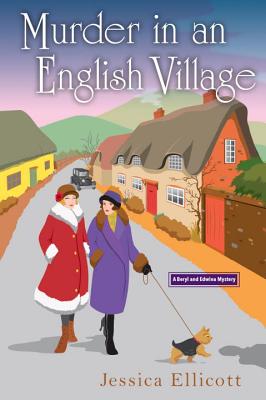 Murder in an English Village (A Beryl and Edwina Mystery #1)
Hardcover

* Individual store prices may vary.
Other Editions of This Title:
Paperback (8/28/2018)
Paperback, Large Print (1/9/2019)
Description
As friends, the boisterous and brash American Beryl couldn't be less alike than the prim and proper British Edwina. But as sleuths in an England recovering from the Great War, they're the perfect match . . .
 
1920: Flying in the face of convention, legendary American adventuress Beryl Helliwell never fails to surprise and shock. The last thing her adoring public would expect is that she craves some peace and quiet. The humdrum hamlet of Walmsley Parva in the English countryside seems just the ticket. And, honestly, until America comes to its senses and repeals Prohibition, Beryl has no intention of returning stateside and subjecting herself to bathtub gin.
 
For over three decades, Edwina Davenport has lived comfortably in Walmsley Parva, but the post–World War I bust has left her in dire financial straits and forced her to advertise for a lodger. When her long-lost school chum Beryl arrives on her doorstep—actually crashes into it in her red motorcar—Edwina welcomes her old friend as her new roommate.
 
But her idyllic hometown has a hidden sinister side, and when the two friends are drawn in, they decide to set up shop as private inquiry agents, helping Edwina to make ends meet and satisfying Beryl's thirst for adventure. Now this odd couple will need to put their heads together to catch a killer—before this sleepy English village becomes their final resting place . . .
Praise For Murder in an English Village (A Beryl and Edwina Mystery #1)…
"You'll love this delightful new series about two ladies of a certain age who refuse to let Society's expectations hold them back from bringing a killer to justice. The very British Edwina and the too American Beryl are a wonderfully mismatched pair who will keep you turning pages until they solve the crime."
—Victoria Thompson, bestselling author of Murder in the Bowery
 
"Remember the name Jessica Ellicott. Her deftly executed debut novel, in which two female amateur detectives, one American and one English, work together to solve an old mystery and a new murder in post-World War I England, is a delight from start to finish. The characters are interesting, the plot is intriguing, and there is the added attraction of a cute little dog. What more could fans of historical cozies ask for?"
—Kathy Lynn Emerson, author of Murder in a Cornish Alehouse
 
"Absolutely delightful. Readers will fall in love with this intrepid new pair of sleuths as they sniff out the secrets hiding just beneath the surface of even the most unassuming English village."
—Anna Lee Huber, bestselling author of the Lady Darby Mysteries
 
"You'll fall in love with genteel Edwina and gregarious Beryl, a quirky pair of sleuths who pool their respective talents and doggedly get the job done. Great fun from start to finish, murder has never been so adorable!"
—Alyssa Maxwell, author of A Pinch of Poison
Kensington, 9781496710505, 304pp.
Publication Date: October 31, 2017
About the Author
Jessica Ellicott loves fountain pens, Mini Coopers, and throwing parties. She lives in northern New England where she obsessively knits wool socks and enthusiastically speaks Portuguese with a shocking disregard for the rules of grammar.
or
Not Currently Available for Direct Purchase